An Overview of Air Distribution and Filtration Requirements
The main goal of operating room air distribution design is to maintain a hygienic surgical zone around the patient and surgical team. Patient well-being is critical, and a well-designed air distribution system can help mitigate surgical site infections.

ANSI/ASHRAE/ASHE Standard 170 for the Ventilation of Health Care Facilities provides design parameters for operating rooms that help create a sterile surgical zone through the air distribution system. These parameters include filtration and air change rate as well as velocity and diffuser coverage requirements over the operating table or surgical zone.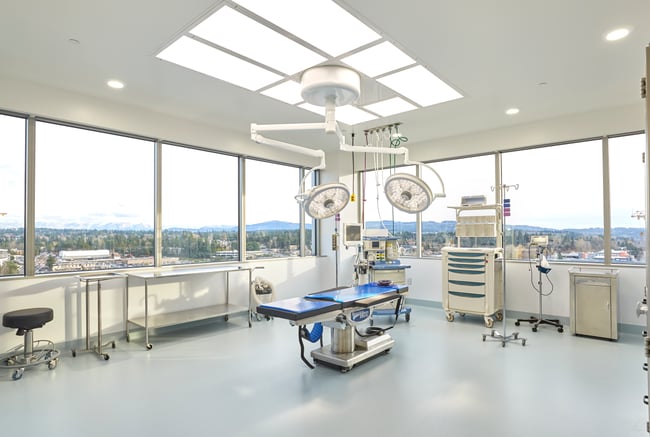 A hospital operating room featuring the Price Ultrasuite integrated OR diffuser system with LED lighting
Filtration
The latest edition of ASHRAE 170 was published in early 2021 and states that operating rooms require a minimum filter efficiency of MERV 16 (previously MERV 14), although HEPA filters are typically used in these spaces. Additionally, the standard now states that "in ORs or Class 3 imaging rooms designated for orthopedic procedures, transplants, neurosurgery, or dedicated burn unit procedures, HEPA filters shall be provided and located in the air terminal device."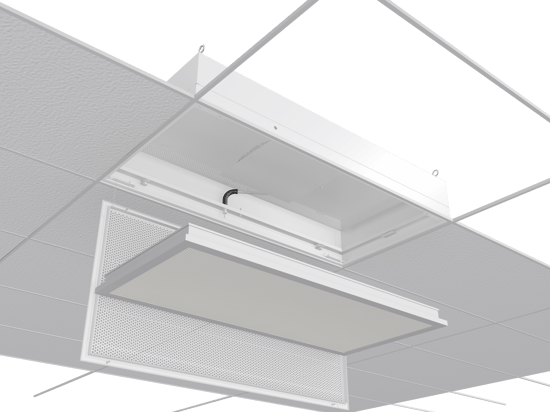 Room-side replaceable HEPA filters can be provided directly within the air terminal device, as seen here in Price's Laminar Flow Diffuser
Primary Diffuser Array
A key design requirement within ASHRAE 170 for operating rooms is the primary supply diffuser array. This is recommended with the sole intent of creating a large sterile zone around the patient and medical staff. The standard dictates that the coverage area of the primary supply diffuser array should include the surgical table and extend a minimum of 12 in. beyond the footprint of the surgical table on each side and that no more than 30% of this area may be used for nondiffuser uses. This recommendation ensures that enough clean, filtered air is dispensed above the patient while accommodating the complex medical equipment present in today's modern operating rooms.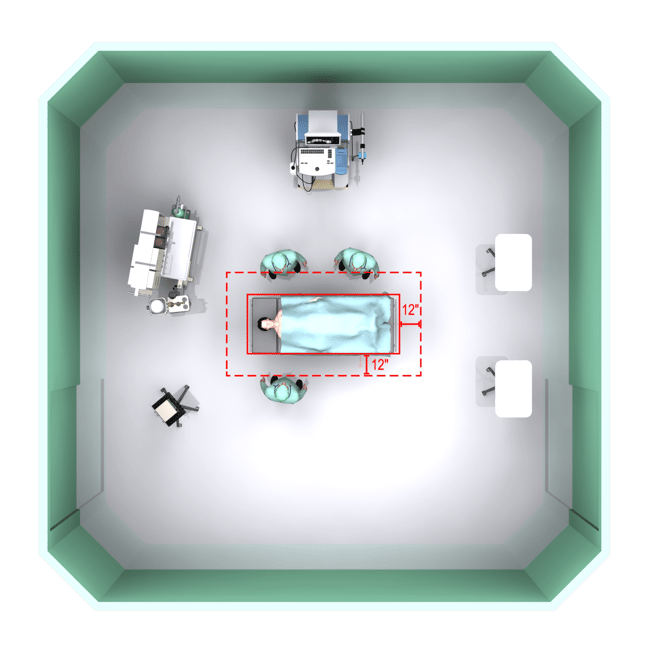 The primary diffuser array covers the area over the patient table plus a 12 in. perimeter around the table
The airflow in the primary diffuser array should be unidirectional and downward, with an average velocity of 25 to 35 cfm per sq. ft. ASHRAE Group E nonaspirating diffusers, or laminar flow diffusers, are used to meet this requirement. Additionally, operating rooms require positive pressurization of at least +0.01 in.w.g. as well as a minimum of 20 total air changes per hour, with a minimum of four of those air changes being outdoor air. Finally, a minimum of two (four recommended) low sidewall return or exhaust grilles should be placed symmetrically around the room to promote the desired airflow pattern.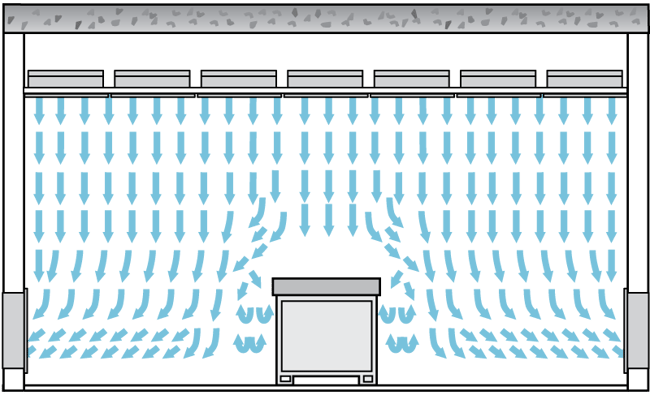 Laminar flow diffusers provide a unidirectional, downward column of airflow over the patient table to displace particulate out through low-level sidewall return grilles
Price Industries offers several ceiling and diffuser systems that meet all the requirements set out in ASHRAE 170, including the Price Ultrasuite diffuser system with integrated LED lighting that we'll explore in our next blog post. Check out our Operating Room HVAC Design Guide or our previous blog post about operating room ceiling design for more information on how to meet ASHRAE 170 requirements and maintain patient well-being on your next operating room project.