Controlling Unwanted Noise from the Source to the Receiver
An acoustic panel is one of many names that describe a modular component used to block or absorb noise where it's unwanted. Also known as a double-walled panel, sandwich panel, insulated panel, thermal panel, double-walled ductwork or plenum wall, this engineered building element contains or reduces sound energy at different stages along the path that sound travels from the source to the receiver.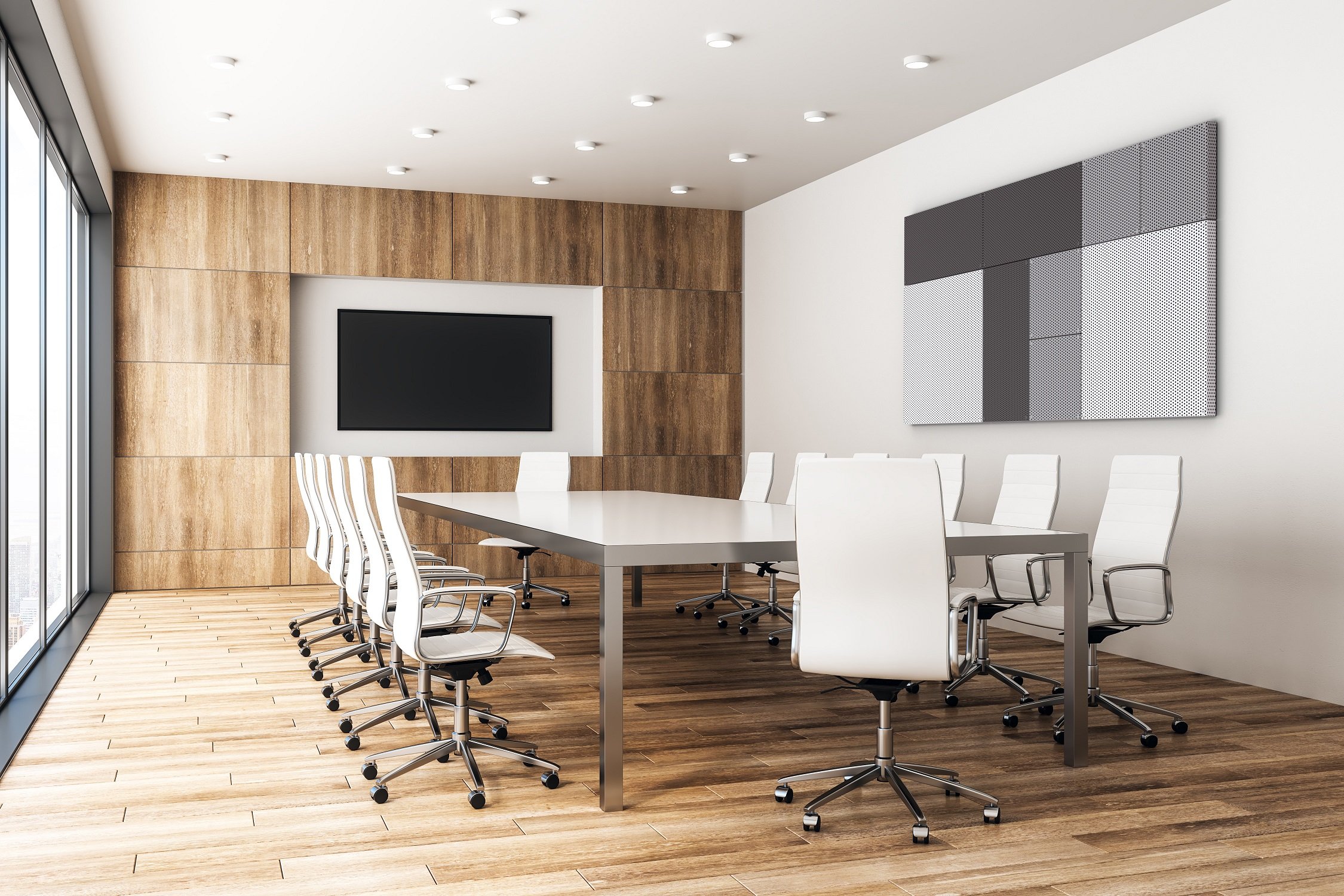 Price's Architectural Modular Panels on the wall of a boardroom
The industry offers several construction types, including textile panels, wooden panels and metal panels. Price Industries' Noise Control group manufactures metal panels, whose performance is tested for sound transmission class (STC) in accordance with ASTM E90, Standard Test Method for Laboratory Measurement of Airborne Sound Transmission Loss of Building Partitions and Elements and noise reduction coefficients (NRCs) in accordance with ASTM C423, Standard Test Method for Sound Absorption and Sound Absorption Coefficients by the Reverberation Room Method. The first test standard derives the panel's ability to block sound, and the second determines its ability to absorb sound.
Addressing Sound at the Source
When looking at radiated sound energy from a source, acoustic panels block and absorb sound by confining it with a full or partial enclosure. Determining the right construction for an enclosure comprising acoustic panels requires knowing the sound power levels of that source and the noise background level limit of its surroundings.
The render for a full enclosure using acoustic panels (left) and the completed project installed outside a care home (right)
Generally, the more mass the panel has (or the thicker the panel is), the more transmission loss it will provide. If a source is radiating 70 dB (single-number rating) and needs to be enclosed to achieve 35 dB at a close distance, for instance, an acoustic panel with a minimum performance of STC-35 is required. A 4-inch thick standard acoustic panel would meet that requirement.
Addressing Sound Along the Path
In outdoor applications, acoustic panels can create a surrounding barrier with an open top or can be fully enclosed to block and deflect sound as it travels in the air. In a mechanical room, acoustical plenums are usually required to block and absorb sound exiting and entering toward a sidewalk, adjacent room or nearby residence at the wall where air enters or leaves.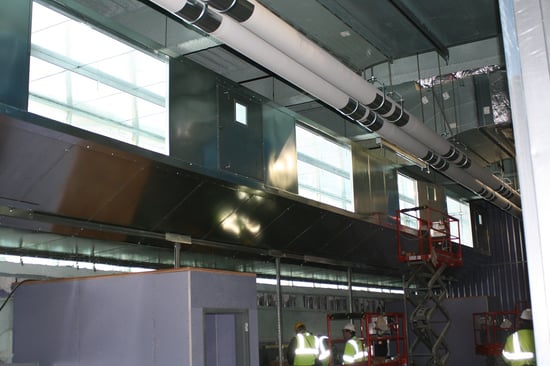 An air handling unit intake air plenum, preventing noise from a mechanical room exiting through the louvers
Acoustic panels can also be used as mixing plenums or double-wall casing ductwork to prevent radiated noise from leaving the ductwork on exposed-ceiling applications. They are also often used when a rooftop unit is located directly above a critical occupied space (such as meeting rooms and classrooms) to mitigate excessive duct-borne or radiated noise.
Addressing Sound at the Receiver
For many industries, noise is the most common customer complaint. Whether used as ceiling tiles, as partition walls or as added mass on an existing wall, acoustic panels have endless applications to reduce unwanted noise.

For schools and hospitals in particular, room acoustics are vital for optimal learning or for patients' prompt recovery. In fact, LEED for healthcare supports up to two points if good acoustical design practices are followed.

According to the ANSI/ASA S12.60-2010, Acoustical Performance Criteria, Design Requirements and Guidelines for Schools, a minimum of 35 dBA from the HVAC system needs to be achieved, and the classrooms need to meet the ideal reverberation time in the space. Acoustic panels can be used strategically to provide enough absorption to achieve this.
In addition to having an NRC of more than 0.80 for sound absorption, Price Acoustic Panels are available in a wide variety of construction materials for all the different applications in the HVAC industry, from the standard galvanized construction for mechanical rooms to stainless steel, aluminum and powder-coat finishes for architectural applications.

They can be used in combination with other Noise Control products, such as louvers and silencers, for a packaged solution to abate noise. Alternatively, they can be used indoors for sound absorption to achieve an appropriate reverberation time in a space for optimal speech intelligibility.

For more information about the benefits and the applications of acoustic panels, please visit our website or reach out to the Noise Control team at noisecontrol@priceindustries.com.