More Space, More Capacity and a World-Class Paint Line
In the summer of 2021, Price's Golspie North manufacturing facility in Winnipeg, MB, completed a massive expansion. Measuring 130,000 square feet (108,000 square feet of which is dedicated manufacturing space), the Golspie North project is the largest expansion to be completed on the Winnipeg campus. The additional space dramatically increased manufacturing and surge capacity for the Critical Environments product group and PARC, Price's architectural ceilings business.
Golspie North is a unique manufacturing environment as it is designed for "clean" production and is used only for finishing processes. The high-quality finish requirements of the architecturally focused PARC products and the cleanroom-grade Critical Environments products mean that keeping contaminants out of the new powder-coat paint line is essential. As such, heavy manufacturing processes such as laser cutting, running punch presses, welding and grinding are not completed in the Golspie North manufacturing space.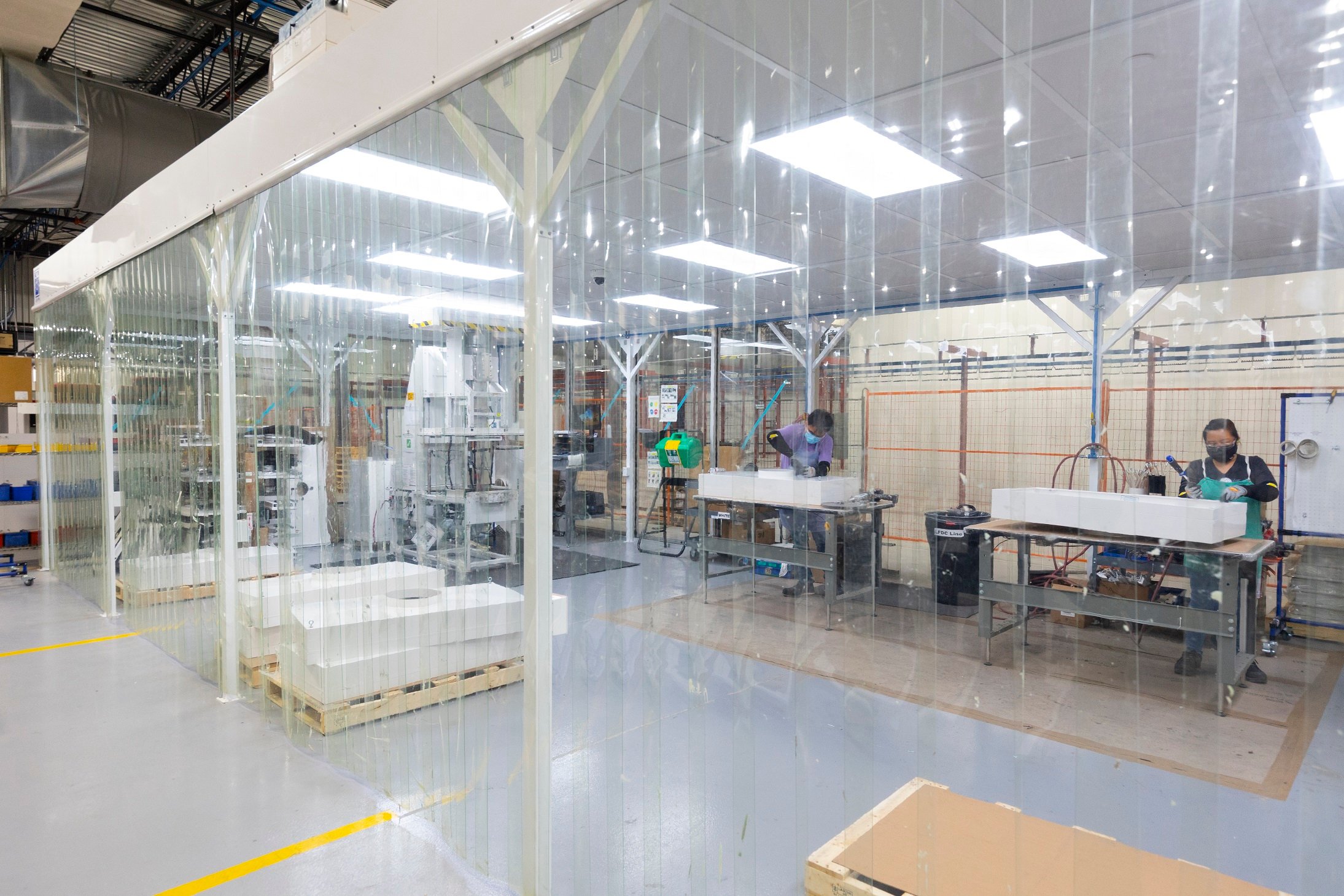 Golspie North's unique manufacturing environment is designed for "clean" production
The Critical Environments assembly area doubled in size to more than 8,000 square feet. The assembly area uses five flow lines to create a single-piece flow environment, maximizing throughput. Each of the four flow lines is dedicated to a product family – diffusers, fan filter units, Ultrasuite and ceiling systems – while a fifth flex line adds surge capacity when the dedicated lines are busy. With the increased footprint and optimized assembly flow lines, the overall capacity of the Critical Environments factory space more than tripled.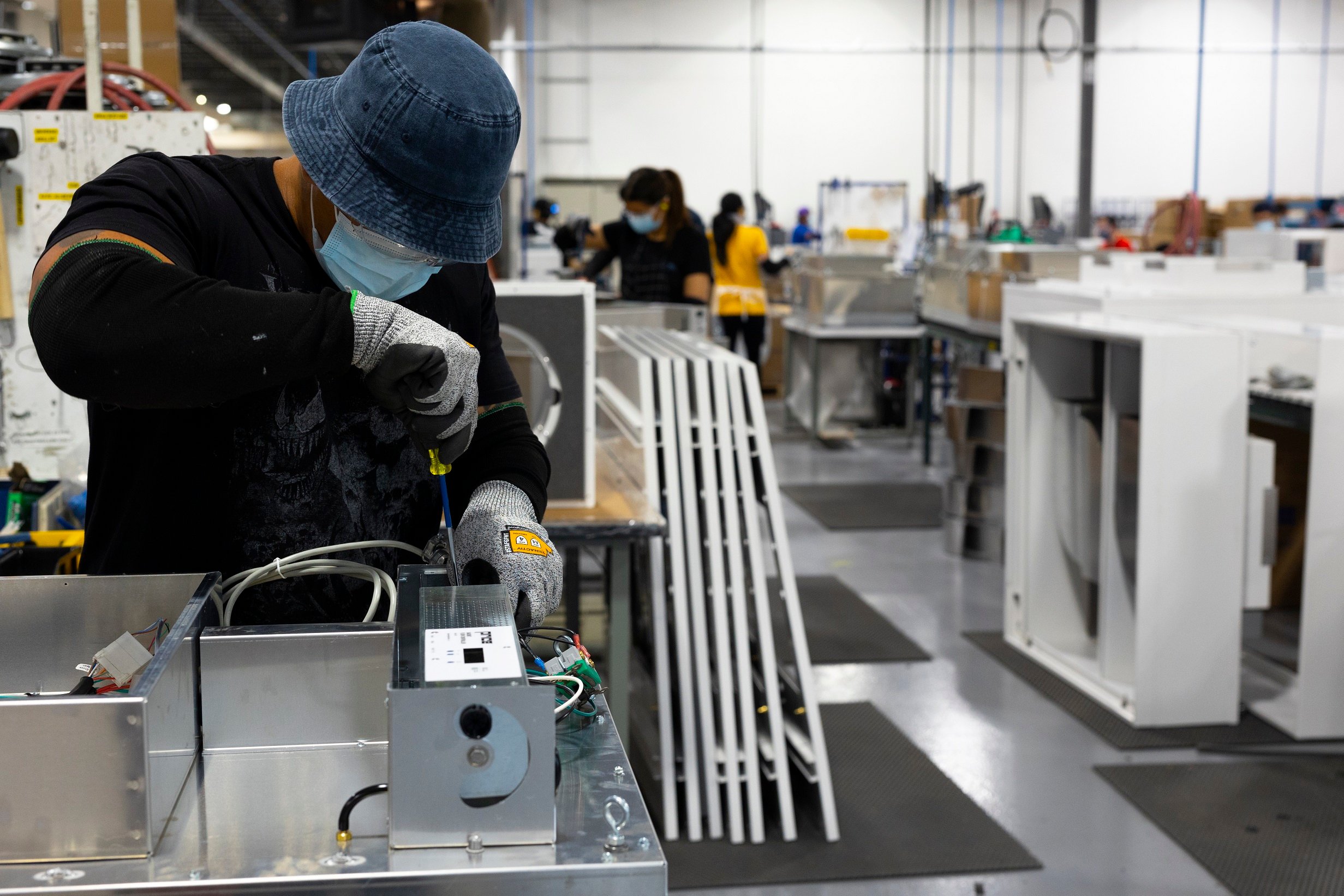 The extra space and flow lines, like the one for fan filter units seen here, have tripled Critical Environments' capacity
The expansion also increased capacity for the PARC team, quadrupling its assembly space, with dedicated areas for the Node and Weave products. The 6,000-square-foot Weave cell is currently producing radiant textile panels that combine a unique architectural appearance with the thermal comfort of radiant panels for major construction projects in Europe. This extra space provides room to set up assembly flow lines, increasing throughput by more than 500% to meet the growing demand of PARC's innovative products.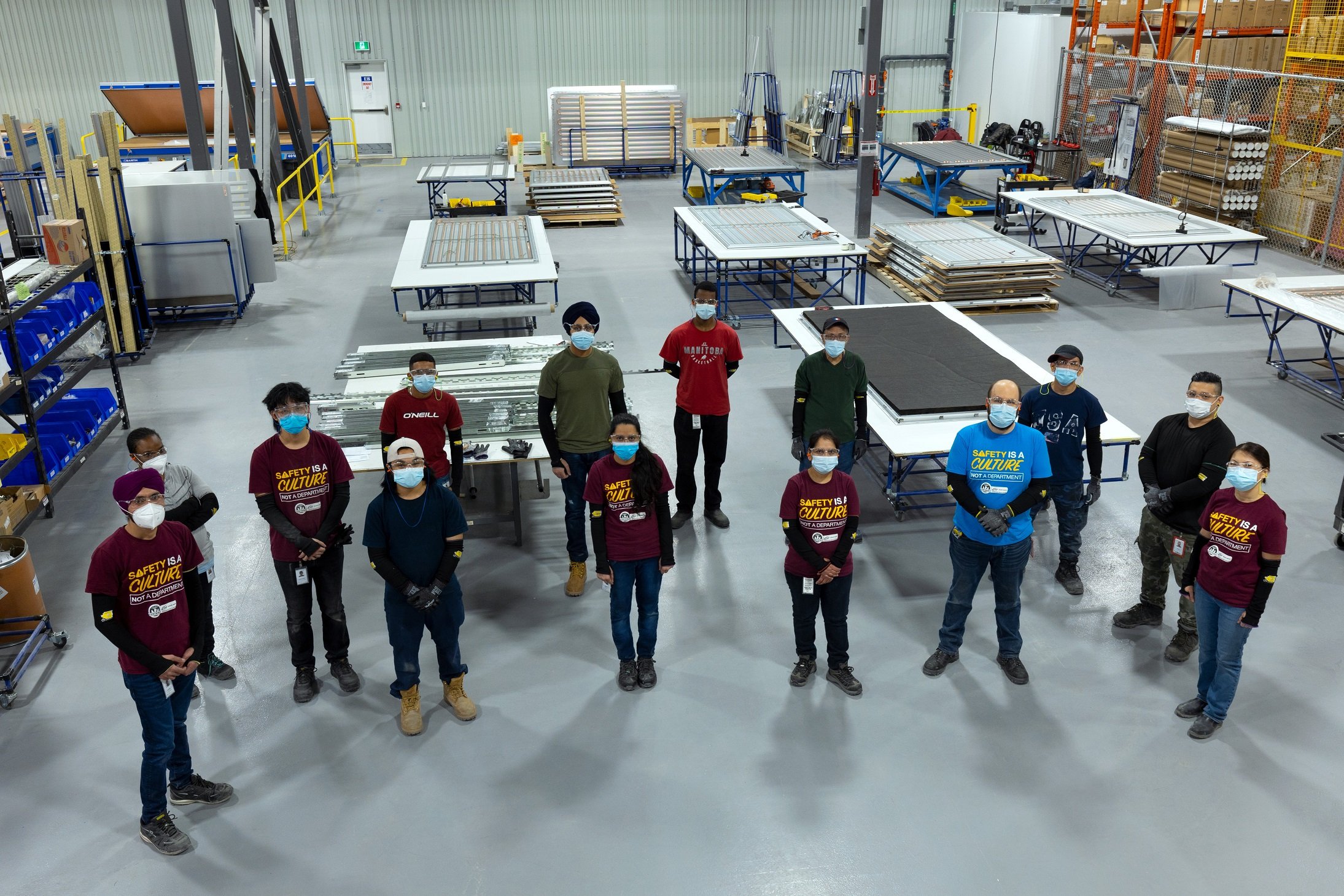 The expansion quadruples PARC's assembly space, including a dedicated Weave cell
But the crown jewel of the expansion is the 1,550-foot-long powder-coat paint line with two dedicated paint booths, one for high-volume standard B12 white and the other for colored product. The color paint booth is set up to roll on and roll off the line in less than 15 minutes, allowing for rapid color changes throughout the day for optimal efficiency and just-in-time manufacturing.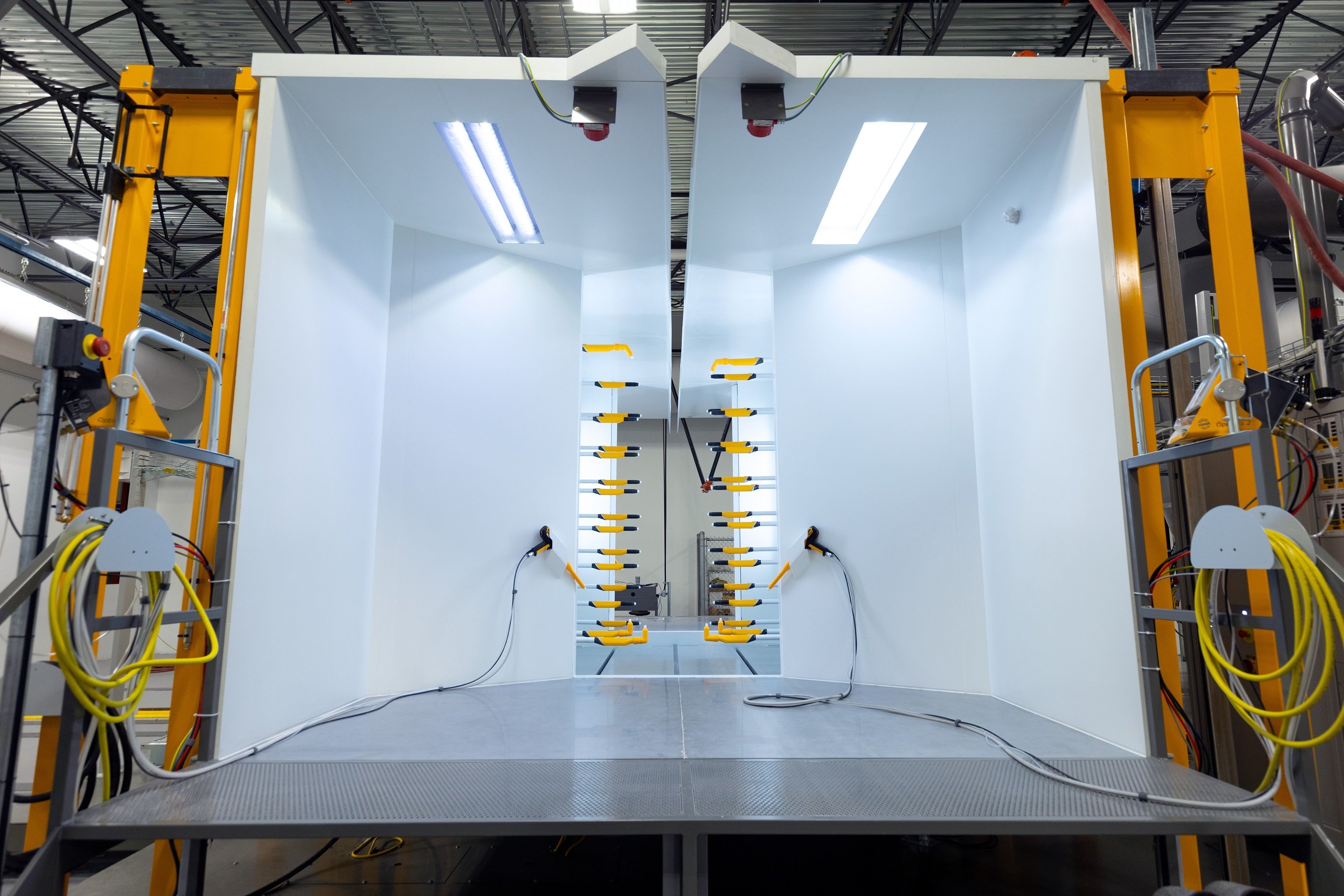 The new paint line features two automated powder-coat paint booths
The latest technology in powder guns, paint booth construction, powder reclaim and general line design allows us to provide architectural and medical-grade powder finishes with line speeds and capacity 50% greater than the existing powder line in the adjacent Golspie East factory. To put this into perspective, on this new paint line, more than 100 laminar diffusers can be powder coated every hour!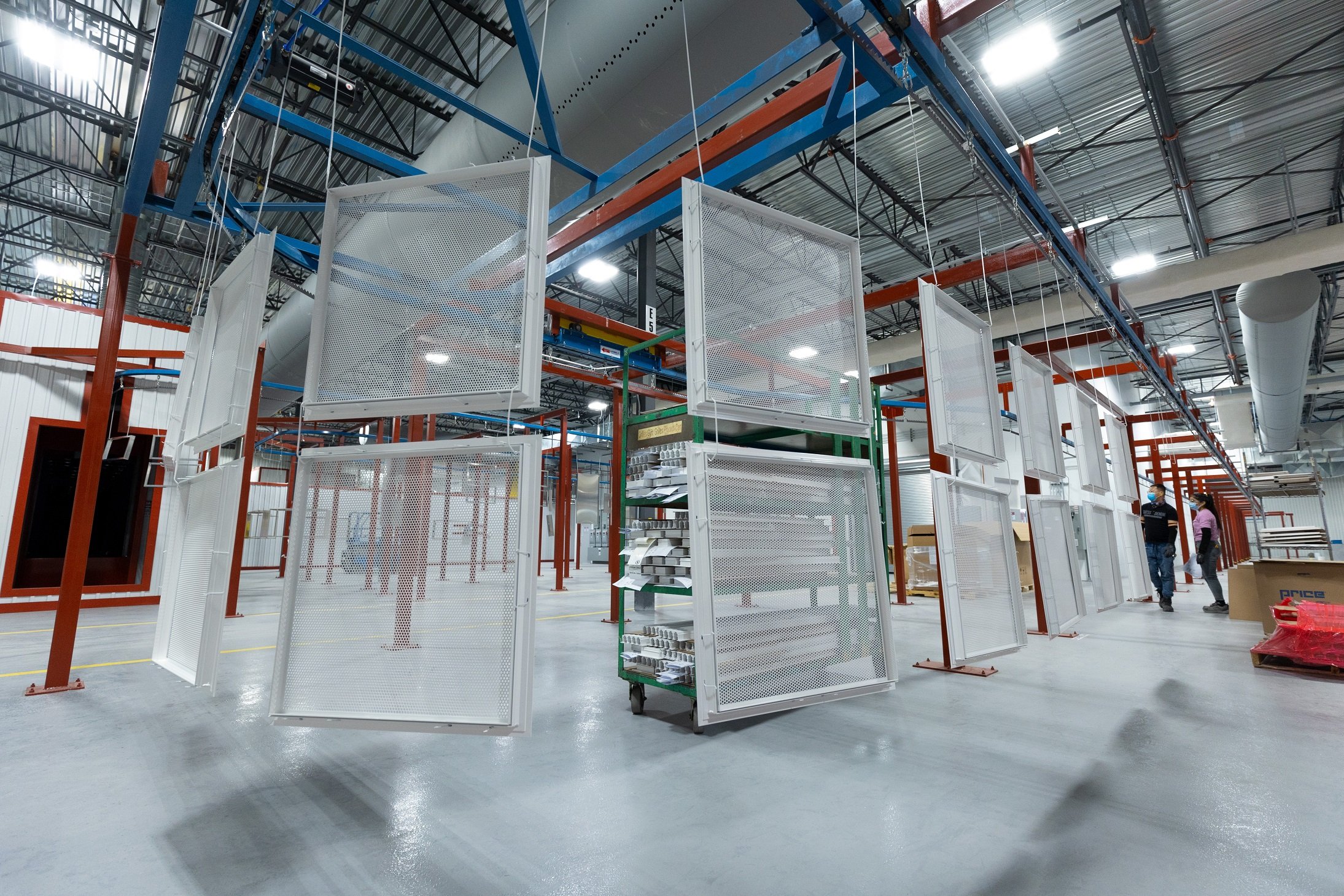 Perforated faces moving through the paint line; the paint line technology can produce both architectural and medical-grade powder finishes
The Golspie North expansion is a milestone event for Price, which is always looking for ways to improve its manufacturing processes. To learn more about Price's systems and solutions, we invite you to book a tour and see the facility for yourself!