Price Ultrasuite Combines HVAC and LED Lighting in One Revolutionary System
Integrated operating room ceiling systems consolidate multiple services in a single system to streamline supply, installation and on-site coordination. Price Industries' Ultrasuite® system (pat. 10,401,049) combines hospital-grade LED lighting with precision-equalized laminar airflow diffusers to eliminate the traditional "light ring" and open valuable ceiling space for surgical equipment – all while mitigating contamination in the surgical zone.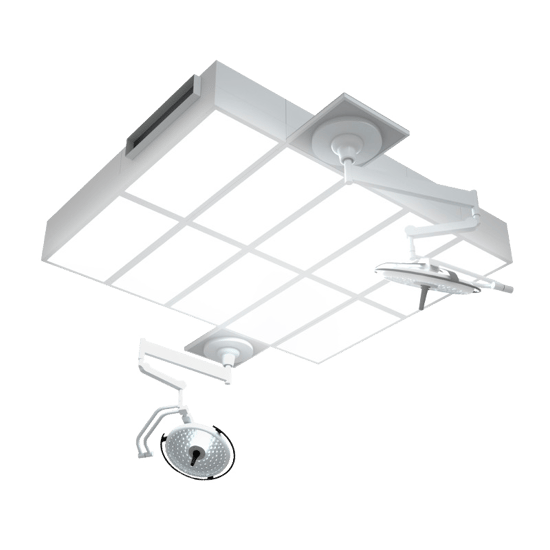 The Ultrasuite hospital operating room diffuser system with integrated LED lighting
Improved Visibility
In operating room design, lighting quality and lighting requirements demand special attention, which we detailed in a previous blog post. Incorporating LED lighting within each laminar flow diffuser allows lighting to be located directly above the surgical table, improving visibility and reducing shadows where the surgical team is working. For noninvasive surgeries, flexible dimming control and optional green lighting improve the visibility of flat panel displays by enhancing images and eliminating the glare that traditional overhead white lights cast on monitors.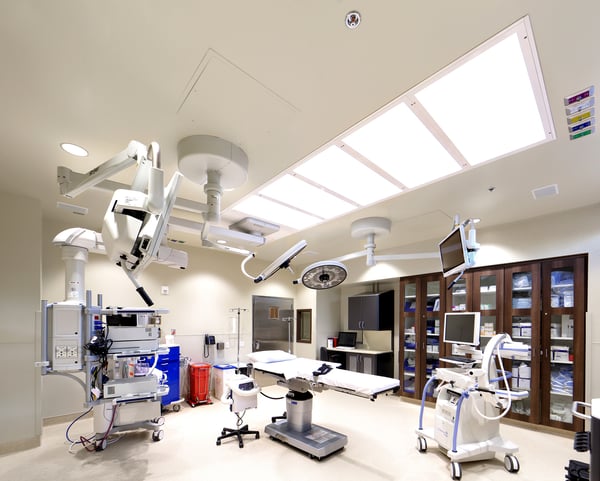 Ultrasuite installed at the Eagle Rock Ambulatory Surgery Center in Idaho Falls, ID
Optimized Airflow
A highly engineered dispersion baffle and translucent polymer perforated face ensure even distribution of airflow within each diffuser module regardless of system layout or inlet location. Consistent with the requirements of ASHRAE Standard 170 for the Ventilation of Health Care Facilities, the Ultrasuite provides uniform, unidirectional laminar airflow across the face of the diffuser, preventing entrainment of room air to reduce the risk of contamination in the surgical zone.
This smoke test illustrates how the Ultrasuite provides equalized laminar airflow across the diffuser array
Customizable Layout and Medical Equipment Integration
The Ultrasuite uses a single, large diffuser design with a 12 in. low-profile common plenum. The system layout is customizable, with module sizes and configurations to suit any equipment arrangement. Inlets can be positioned on the side or top of the plenum for compatibility with existing ductwork configurations or to optimize new construction.
Flexible layouts allow for seamless integration with ceiling-level Unistrut channels, used for mounting imaging equipment in hybrid operating rooms and catheterization labs, providing a hassle-free connection and a clean aesthetic. Customized Ultrasuite layouts maximize the active diffuser face area to meet ASHRAE 170 table coverage requirements while coordinating with imaging equipment and other ceiling-mounted devices.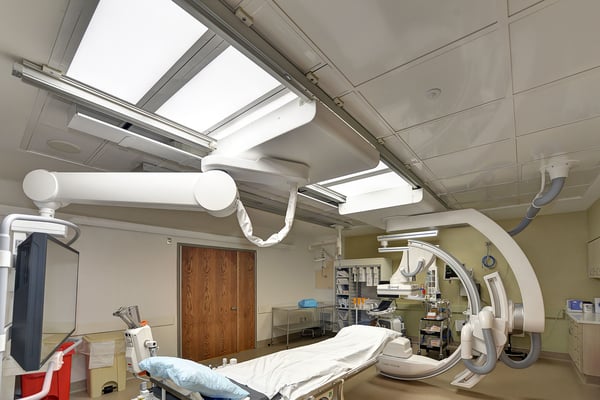 Ultrasuite with Unistrut integration in a hybrid operating room at Alleghany Health Network's West Penn Hospital in Pittsburgh, PA
Streamlined Installation and Maintenance
The Ultrasuite ships in large, factory-assembled sections and leverages quick-connect wiring and a common plenum to significantly reduce the number of inlets and ductwork – and therefore installation time – required. As a result, the Ultrasuite can be installed in a fraction of the time it takes to install a traditional system.
LED drivers are housed in a remotely mounted control enclosure, providing easy access for maintenance and replacement. The high-quality and long-lasting LED lights are IP67 rated to seal out dust and liquid and are rated at 80% of original brightness for 60,000 hours.

For more information on the Ultrasuite, visit our website or reach out to our Critical Environments team at criticalenvironments@priceindustries.com.