Streamlining Your Workflow with the Price Engineer Toolkit
A variable air volume terminal unit, or VAV box, provides space-specific heating, ventilation or air-conditioning to individual zones within a larger indoor environment. The most common VAV box is a single-duct terminal unit, which regulates the volume of air that each space requires by adjusting a damper with an automated controller and actuator. VAV terminals often include additional components such as hydronic or electric heating coils and fans equipped with variable-speed motors.
Irrespective of the VAV box configuration, the mechanical consulting engineer must evaluate each zone to establish what size of equipment is required to maintain desirable temperature, humidity and indoor air quality for the climatic extremes that the HVAC system is designed to accommodate (also known as design-day).
How Do Most Engineers Schedule VAV Performance?
Engineers use mechanical equipment schedules to determine equipment performance requirements, locations and quantities. These variables are constrained by the zones they serve as well as by equipment limitations from manufacturers. There are three main methods that most consulting engineers use to populate VAV performance schedules.
Manufacturers' performance from selection software, such as Price All-In-One for Engineers, or printed and online product catalogs. This method tends to yield most accurate product performance, considering these sources are furnished with lab-tested and AHRI-certified performance. However, it tends to be unpopular with consulting engineers due to its time-consuming nature.





Microsoft Excel–based schedules supported by engineering equations or rules of thumb.

This method is popular in the industry as it is repeatable, controlled by the consulting engineering firm and, most critical, is fast and efficient. Unfortunately, this methodology also has some pitfalls, including that it uses less accurate performance (especially for hot water coils and pressure drops) and is more prone to human error than other methods are.



Performance embedded or imported into BIM tools such as Revit.

This methodology is growing in popularity but can be susceptible to the same pitfalls as Excel-based schedules. Engineers need to ask themselves where this performance comes from and whether it is based on engineering rules of thumb or AHRI-certified performance.
What Are the Biggest Time Sinks with Generating VAV Performance?
Many consulting engineering firms report that time sinks come from two primary sources:
A focus on accuracy above all else, leading to line-by-line box VAV performance selections from manufacturers' performance programs or catalogs. Although accurate performance schedules can save time downstream, the selection process can be time-consuming and tedious.


Submittal review and schedule updates when manufacturers' performance submittals don't end up aligning with the intended performance schedule. If initial VAV performance schedules are inaccurate, they tend to lead to significant time wasted later on.
Finding a way to maximize speed and efficiency is critical!
How Engineers Can Simplify VAV Performance for More Accuracy in Less Time
Price Industries has developed a new innovative tool, the Engineer Toolkit for Excel: a fully cloud-based performance solution embedded in the most common software for scheduling VAV performance. The Engineer Toolkit maximizes the speed of Excel-based schedules with the accuracy of lab-tested, AHRI-certified performance found in manufacturers' performance software and catalogs. By embedding new functions that work just like familiar Excel functions (such as "SUM" or "COUNT," for example), it is possible to get actual Price VAV box performance such as pressure drop, hot water coil capacity and sound performance without changing workflow.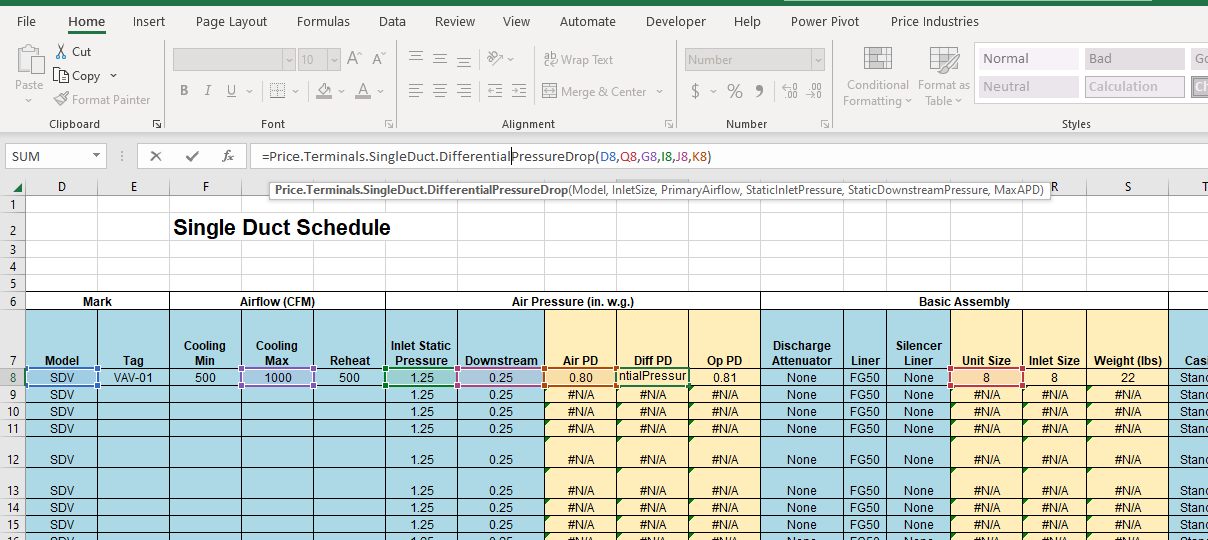 The Engineer Toolkit for Excel embeds performance right into the software engineers are already using
How to Download the Engineer Toolkit for Excel
The Engineer Toolkit for Excel is free and simple to download.

Verify that you are logged into your Microsoft 365 account.
Click "Get it now."
Click "Open in Excel."
How to Learn More about the Engineer Toolkit for Excel
To learn more about the Engineer Toolkit for Excel, watch the video below. Visit the Price Industries website for support, training materials and other engineering tools. And stay tuned for future blog posts where we explore the Toolkit for Revit and the Ripple HVAC Tools.
If you are interested in implementing the Excel Toolkit within your basis of design schedule, please reach out to your local price representative or email us at airmovement@priceindustries.com.