Precise and Accurate Airflow Control
Venturi valves are devices designed to control airflow for room pressurization and fume hood air containment. They are most often used in spaces that require precise and accurate airflow control, protecting occupants from hazardous airborne gases and particles through proper ventilation.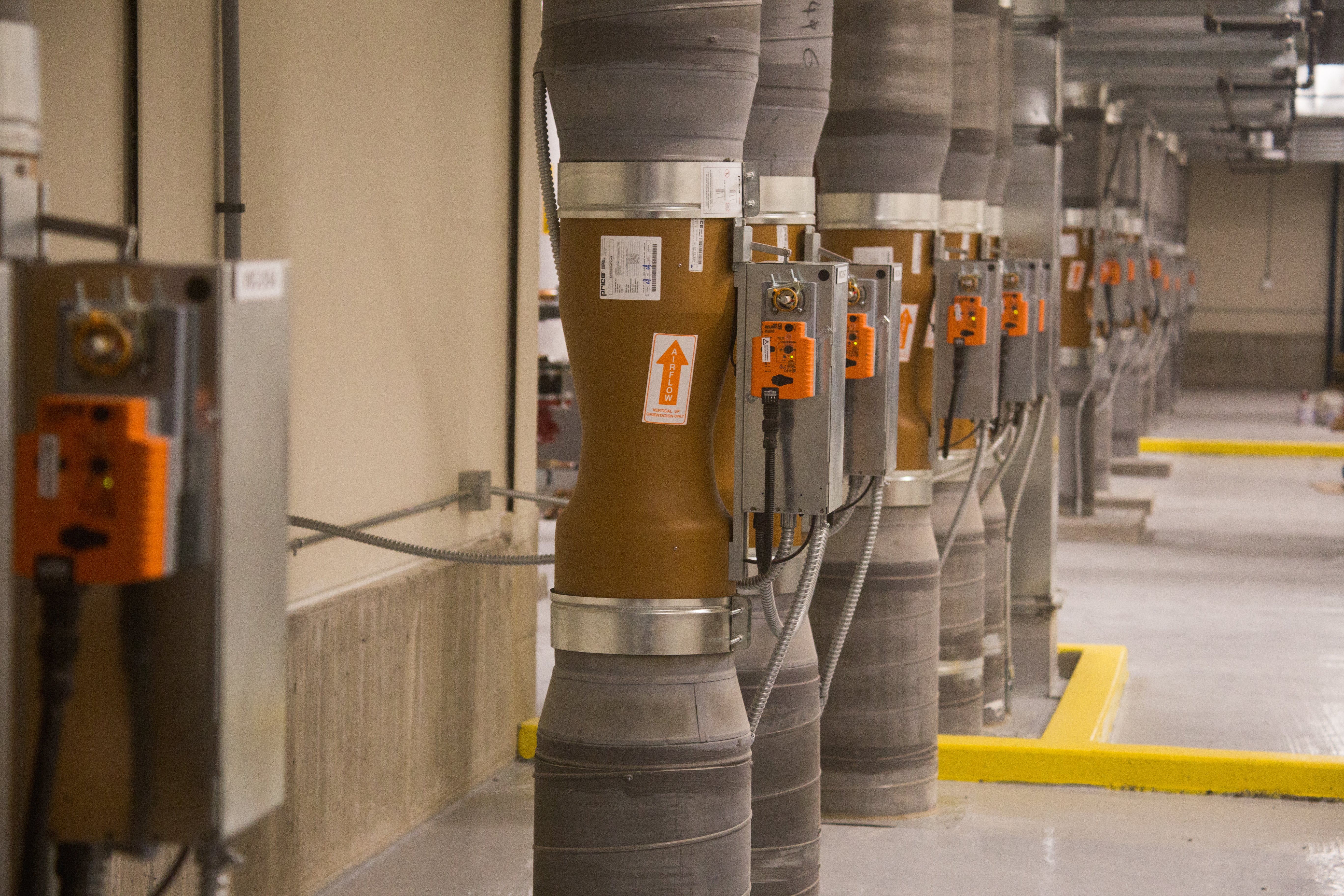 Antec Controls' Venturi Valves installed in a laboratory at Augustana University in Sioux Falls, ND
Venturi valves are best suited for applications in which exhaust system static pressure may change unexpectedly, such as in laboratories where personnel is dealing with hazardous substances at a fume hood. Everyone's safety relies on the valves' rapid response to changes in exhaust system pressure to maintain a consistent airflow through the opening of the fume hood.
An aluminum variable-volume Venturi Valve from Antec Controls
Antec Controls Venturi Valves contain an actuator attached to a lever arm that positions a spring and cone assembly to provide active airflow control. The hourglass shape of the valve enables the spring and cone assembly to restrict flow through the valve neck by passively balancing forces resulting from changes in duct static pressure and airflow. This arrangement results in precise airflow control over a wide range of duct static pressures without the need for actuated airflow control.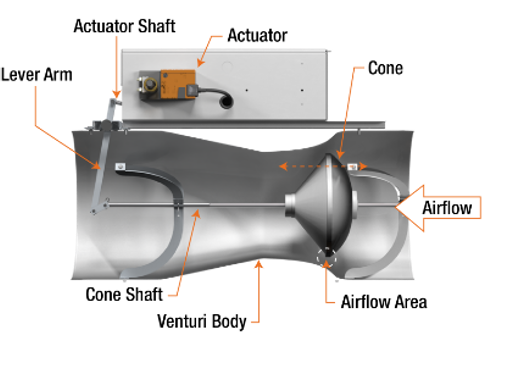 Antec's Venturi Valves use an actuator attached to a lever arm that positions a spring and cone assembly to control airflow
Rather than being measured directly, airflow is reported from a potentiometer that measures the position of the lever arm controlling the spring and cone position, which has been factory calibrated to ensure accurate airflow control. Because of this, the venturi valve does not require an airflow measurement device in the airstream, which in turn improves airflow control and turndown ratios, eliminates the need for a straight duct run upstream of the valve inlet and makes the valve immune to dust and lint contamination.

For more information about venturi valves, visit our website or reach out to our team at Marketing@anteccontrols.com.