An Energy-Efficient Solution for Small-Zone Control
A variable air volume (VAV) diffuser is essentially a ceiling diffuser with a built-in VAV damper and thermostat. Despite its simplicity, this device comes with many benefits and is an effective way to create small-zone comfort for building occupants.
Individual Zones of Control
Having individual thermostats means that VAV diffusers can provide individual zones of control, where occupants can control their own room temperature set point. A VAV diffuser system caters to the individual needs of occupants, creating a comfortable indoor environment for all.

With VAV diffusers, each space can have a unique room temperature set point and individual control
Constant Discharge Velocity
With a VAV damper built right in, VAV diffusers are able to vary the discharge opening as they vary air volume. The result is an almost constant discharge velocity, with the benefits of a better throw, no dumping, a higher level of room air movement and a uniform temperature distribution. Effective room air mixing is provided throughout the VAV operating range, even down to the minimum flow.
CFD analysis shows effective room air mixing with the VAV diffuser both at 100% open (left) and at 25% open (right)
Energy Efficiency and Flexibility
Compared to other systems, the low-pressure, low-energy systems designed around VAV diffusers require less fan horsepower and prevent the overcooling and overheating of spaces. Additionally, a system with small zones of control can easily be adapted to future building changes, and the individual thermostat of a VAV diffuser means the thermostats are never on the wrong side of a wall. And when considering the cost per zone of control, VAV diffusers are the economical solution for small zones.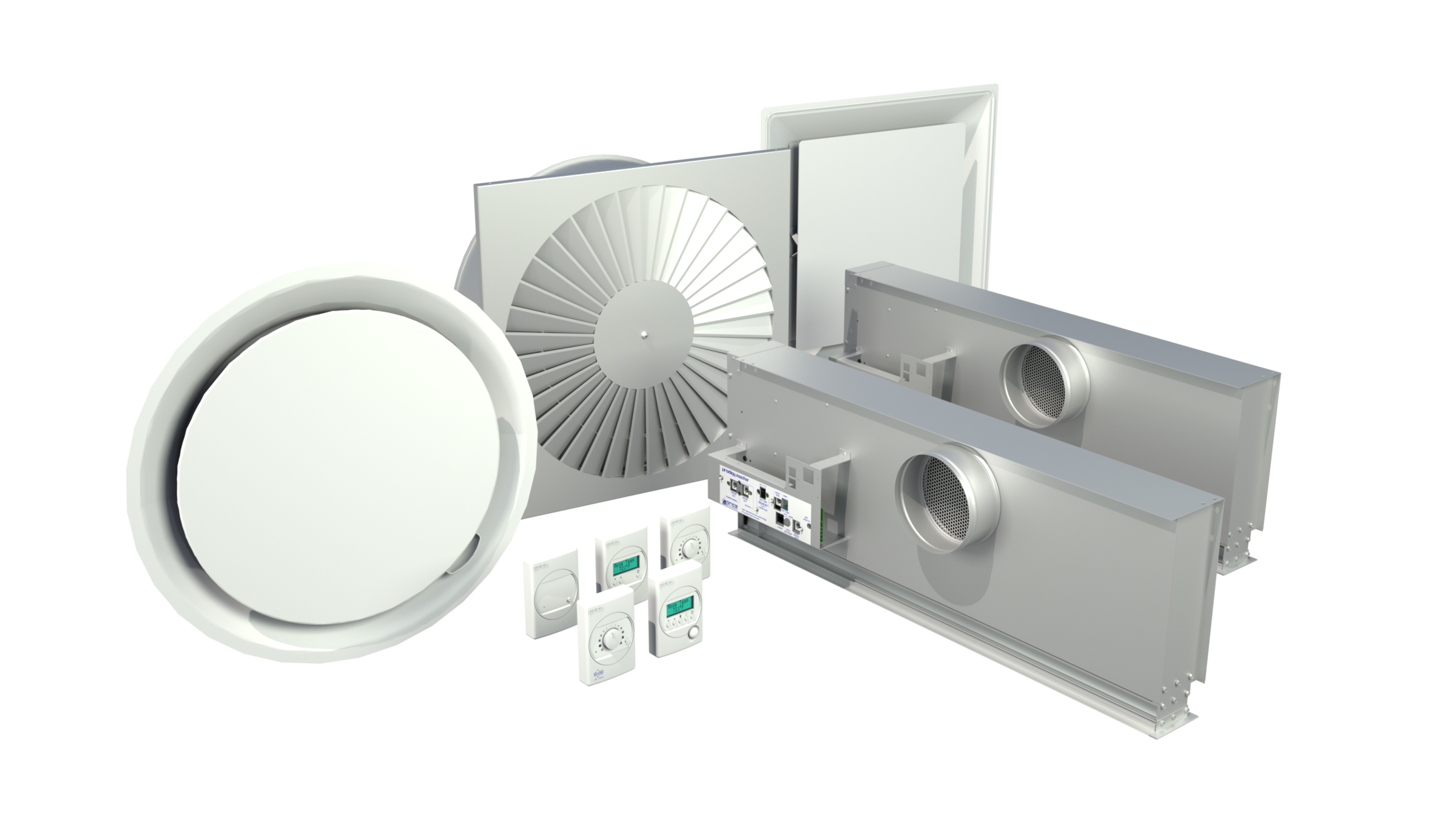 Price offers a full range of VAV diffusers and options to suit a variety of applications
Design Considerations
There are a couple of basic design considerations when working with VAV diffusers. First, all diffusers are low-pressure devices to provide quiet operation. But because VAV diffusers can reduce the volume of air to a minimum, pressure can build up in the duct. Therefore, a means of controlling pressure is needed. Second, VAV diffusers control the room temperature by varying the volume of the supply air, but they do not control the temperature of the supply air. Controls for the source of the warm or cool air should be included in the system.

Price offers a wide array of HVAC products to meet the needs of building design. When a design calls for small zones of control, VAV diffusers are the optimal solution. Visit our website or contact us at vavdiffusers@priceindustries.com for more information about how you can use VAV diffusers in your next project.