A Practical, Engineered Solution for Controlling Noise
Silencers, also referred to as sound attenuators or sound traps, are used as part of the HVAC system to reduce the noise that would otherwise be transmitted to the nearest indoor or outdoor space. In large commercial or industrial applications, silencers can be used in large banks to prevent noise from transferring into the environment.
Silencers, such as circular silencers (left), are used with the HVAC system to prevent the transfer of noise at its source (such as fans) and are often used in large banks (right) in commercial or industrial applications such as generator rooms or exhaust/intake plenums
Price Industries offers three standard silencer configurations – rectangular, elbow and circular – all of which feature fully custom sizing for all dimensions in addition to a plethora of other construction options.
| | | |
| --- | --- | --- |
| | | |
| Rectangular | Elbow | Circular |
Several acoustic media options are available for these silencer configurations (rectangular configuration shown).
Absorptive Silencers

Absorptive silencers consist of an outer metal casing that houses internal baffles. The internal baffles contain a perforated metal liner facing the airstream and are filled with sound-absorbing acoustic media. These silencers are the most common type and are used in any application where it is acceptable to have the acoustic media in contact with the airstream.
Film-Lined Silencers

Film-lined silencers use the same baffle design as absorptive silencers with one difference: a thin polymer film liner separates acoustic media from the airstream to prevent cross-contamination. An acoustic standoff between the film liner and the perforated metal ensures uncompromising acoustic performance. These silencers are often used in healthcare applications.
Packless Silencers

Designed to provide solutions for noise control applications where fibrous acoustic material is not permitted in the airstream, packless silencers provide attenuation without the use of acoustic media. These silencers are typically used in critical environment and laboratory applications.
Rectangular silencers are available with various baffle geometries optimized for different air velocities and performance options. Price's models include the RL (low velocity), RM (medium velocity) and RH (high velocity).
| | | |
| --- | --- | --- |
| | | |
| RL (low velocity) | RM (medium velocity) | RH (high velocity) |
Different configurations are also available for circular silencers, where a center pod can be utilized for applications with high noise-reduction requirements.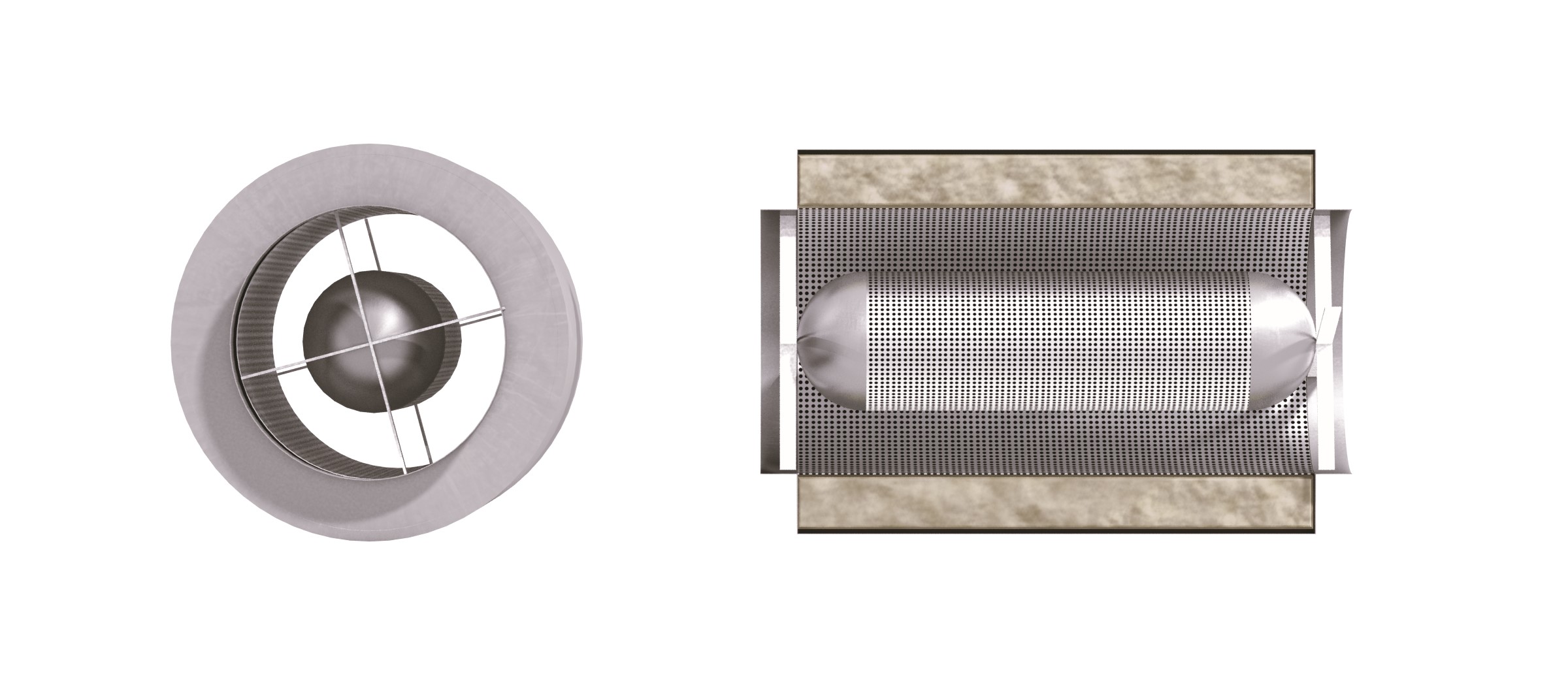 Circular silencer with center pod
For more information about silencers and how you can use them in your next project, email us at noisecontrol@priceindustries.com.