Perimeter offerings that provide flexibility and efficiency
The future of commercial office design faces a number of challenges, including a shift away from densely occupied open office concepts and a heightened concern for occupant health. North America continues to adopt newer energy codes that task design firms to further reduce energy consumption. In addition, indoor air quality (IAQ) has arguably become a principal element of building design.
Although several air distribution systems can be designed to succeed at both of these elements, underfloor air distribution (UFAD) offers significant flexibility and IAQ improvements over traditional air distribution approaches. While the interior zone design has changed little over the years, the perimeter offering has evolved significantly.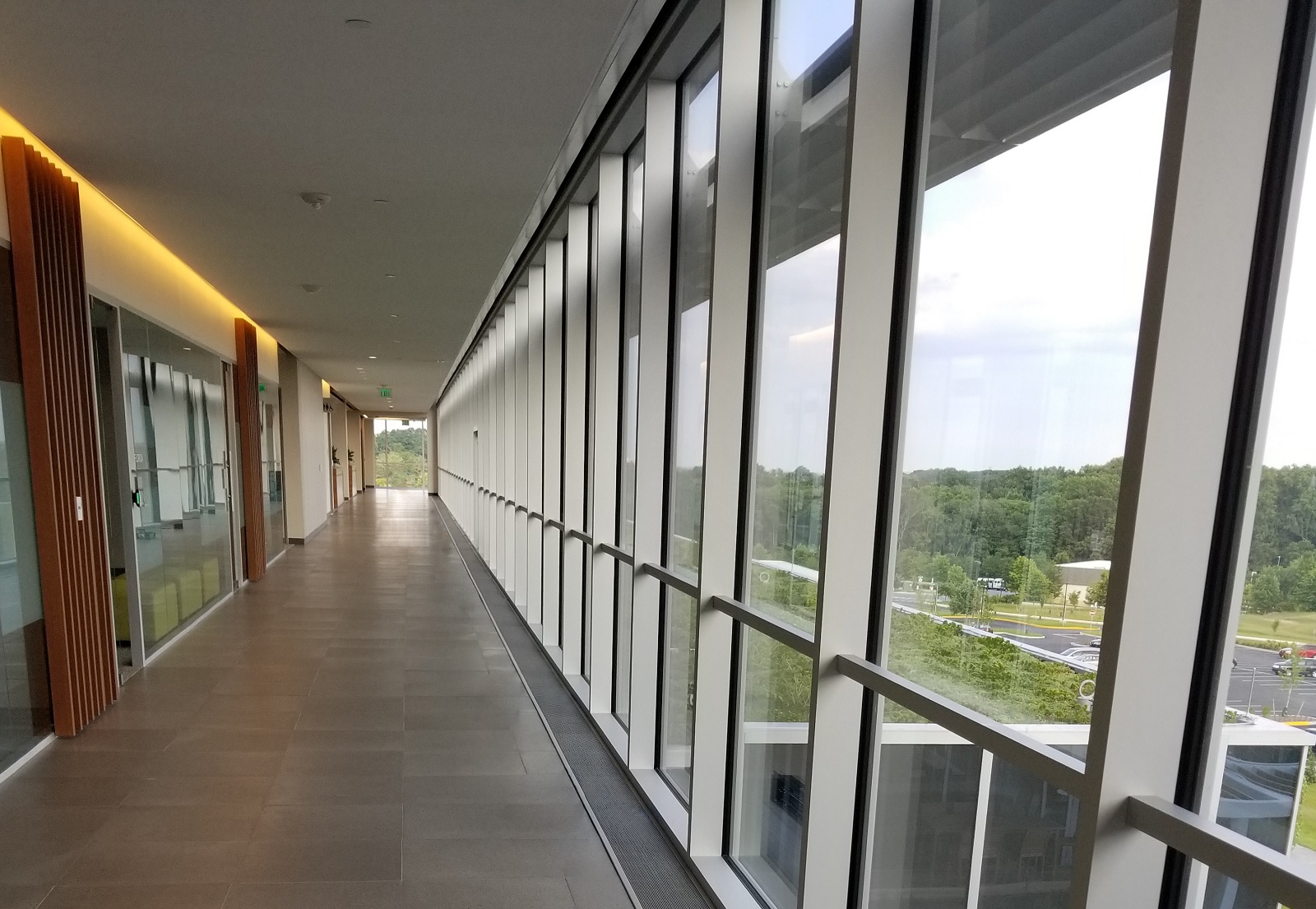 Traditionally, perimeter zones are served by unitary fan booster units ducted to linear floor grilles. Today, several techniques exist to efficiently cool and heat the perimeter using an integrated trough system.
Linear Natural Convection Terminal
The Linear Natural Convection Terminal (LNT) is the most widely used perimeter trough device. Compared to the fan booster approach, this design uses fewer fans, which generates less noise, and has fewer moving parts, which reduces maintenance points.
Natural Convection Terminal (LNT) - Efficient heating through natural convection (optional damper).
Heating
Delivering air at floor level allows for supply air temperatures of 90°F to 120°F (32°C to 49°C). This is much warmer than the supply air temperatures of traditional ceiling systems, which are often less than 90°F (32°C). These warmer temperatures result in less airflow, minimizing fan energy in the heating seasons.
As its name suggests, the LNT operates off natural convection to provide heat to the space. It pulls the cooler room air into the trench, and that air passes through the heating element within the trough itself.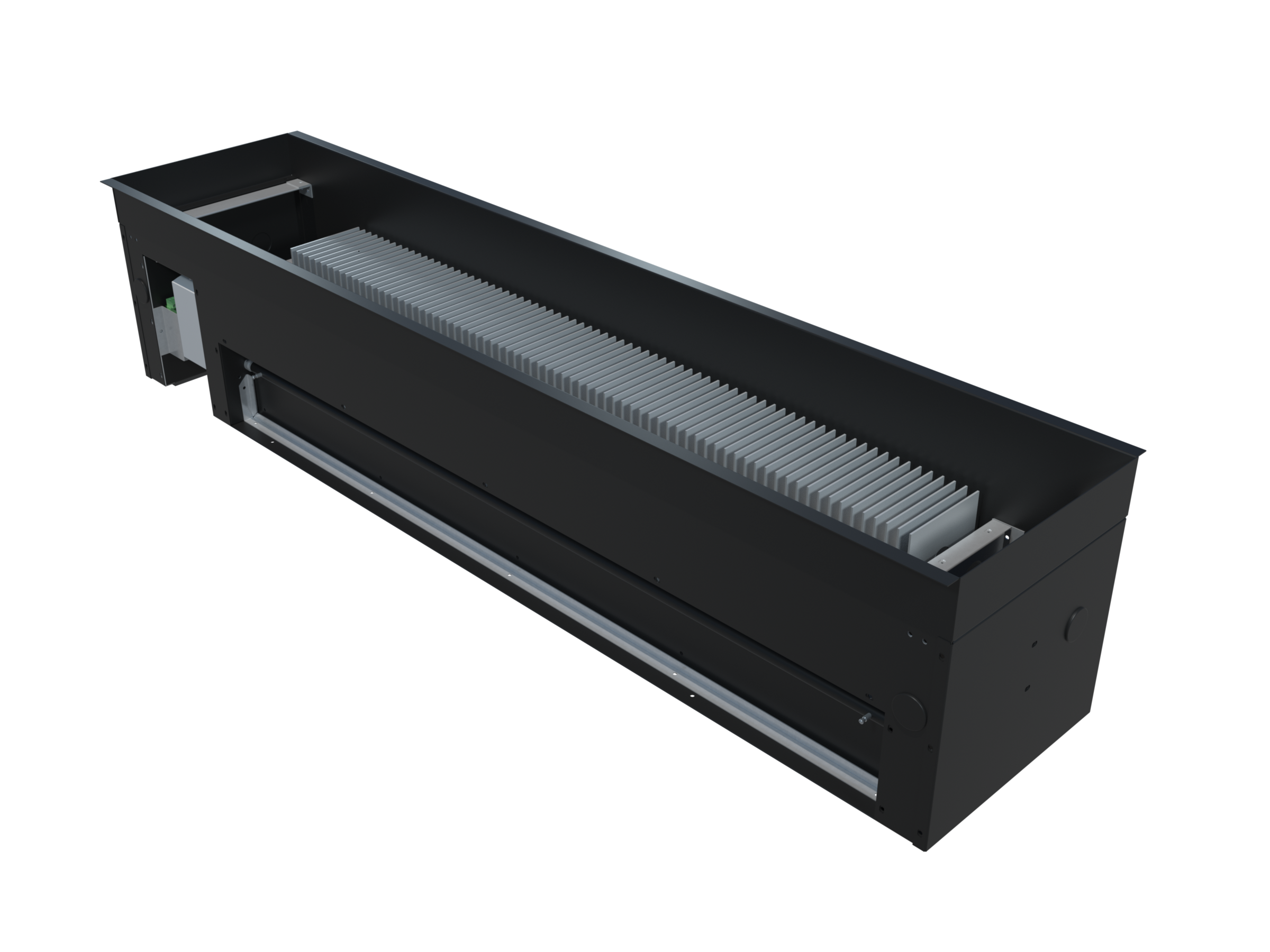 Linear Natural Convection Terminal with inset damper design
The unit is available with coil types to suit any climate in North America. Customers in the cooler climates like Canada and the northern US can take advantage of the new high-capacity coil, which is designed to meet higher heating loads while maintaining a low static pressure drop. This removes the need to include several fin tube elements stacked within the underfloor perimeter, saving floor height, piping connections and install time. Heating can be controlled efficiently with a silicon controlled rectifier (SCR), providing discharge temperature monitoring and control.
Cooling
The LNT provides cooling through a new inset damper design that sits within the footprint of the plenum even when the damper is fully open. The updated design minimizes the need to coordinate the location of the air dampers that extend out from the plenum and floor pedestal locations. The inset design also removes the need to coordinate with other building elements on-site and expedites the installation process. Further, damper size is no longer restricted to fit within the pedestals and therefore provides more airflow through a single air valve (actuator). All electrical components, such as the circuit board and actuator, are room-side accessible for easy replacement.
Linear Floor Heating Cooling Terminal
The Linear Floor Heating Cooling Terminal (LFGB) is a unit that contains both a heating and cooling coil. Unlike in the LNT, air is pushed through the coils using pressurized plenum air during both heating and cooling. This unit minimizes the amount of air required to be pushed through the perimeter of a building.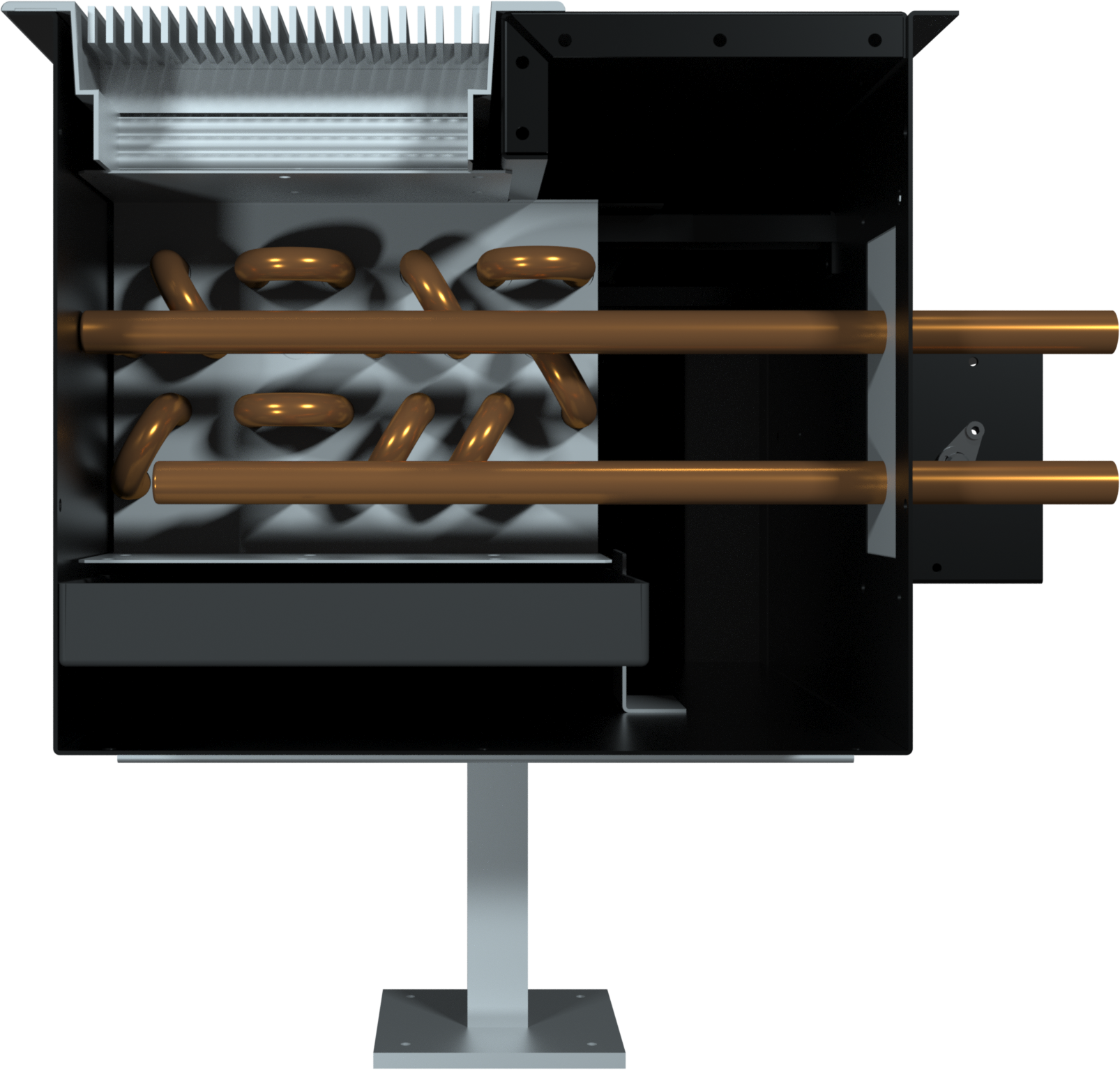 Heat/Cool Terminal (LFGB) - High capacity unit with heating and cooling water coils.
Typical supply air temperatures in a pressurized floor plenum ranges from 60°F to 65°F (15°C to 18°C). The LFGB is available with two to four rows of cooling coil and provides cooling down to 55°F (13°C) supply, reducing the air volume required to cool the heat gain at the perimeter and compensating for any thermal decay that may occur. This provides designers and building owners with individual control and flexibility for each zone.
Linear Fan Terminal (LFT) - Compact, energy efficient design with EC motor, available with electric heat or hydronic heating and cooling.
Linear Fan Terminal
The Linear Fan Terminal (LFT) is the latest addition to the perimeter offering. The LFT provides superior control independent of the underfloor plenum conditions and recirculates room air through the coil during cooling and heating using an efficient ECM tangential fan.
The LFT creates forced convection through the electric or hydronic coil within the trough. As the market continues to design with milder water temperatures from equipment, such as condensing boilers with temperatures at 100°F to 140°F (38°C to 60°C), this device still provides a high degree of heating (1–2 MBH/ft.). The unit can be designed to provide cooling for sensible only or condensing conditions.
The LFT can also be used for non-raised floor applications, as within a concrete trench. The low-profile design sits at 4–6 in. in total height, making it a great option for renovations.
Linear Fan Terminals
No matter the climate or design challenge, there is a perimeter solution to meet any modern design requirement. These approaches will reduce maintenance and increase energy efficiency while enhancing other UFAD benefits, such as improved IAQ and space flexibility. Please reach out to Underfloor@priceindustries.com for more information.