Study by Price Industries and Purdue University Explores How Office Ventilation Affects Particle Concentration
We invite you to read the full version of the Price-Purdue research article, "Investigation of airborne particle exposure in an office with mixing and displacement ventilation," here.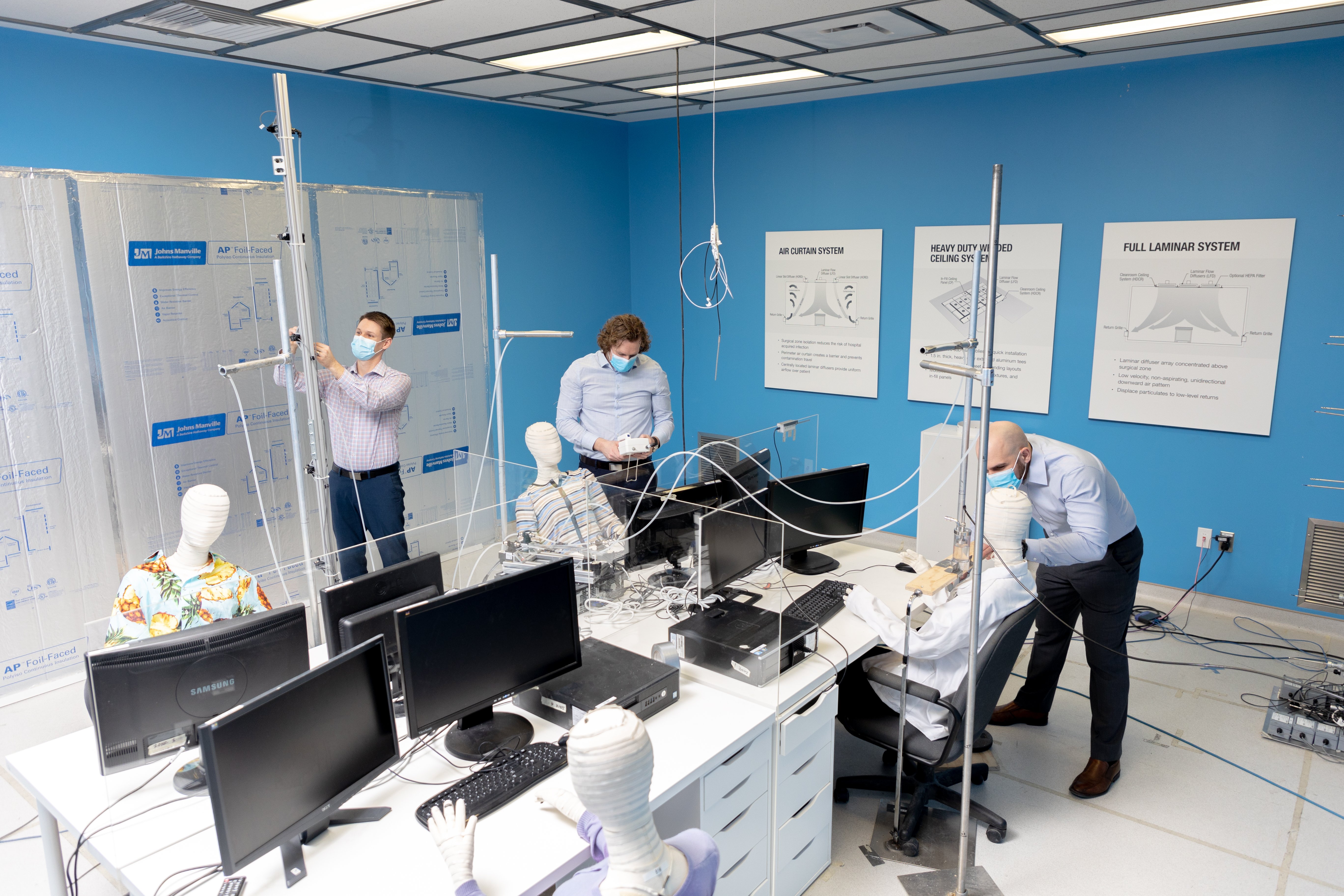 Price co-authors (left to right) Graham Fediuk, Dale Paskaruk and Mike Koupriyanov in the test chamber at Price Research Center North in Winnipeg
The international journal Sustainable Cities and Society has published a joint study conducted by Price Industries and researchers at Purdue University about the effect of office ventilation systems on particle concentration and indoor air quality.
In the summer of 2020, the Price team began to explore how its knowledge of air distribution could be used to improve indoor air quality. With this goal in mind, the team sought to investigate how traditional mixing ventilation and displacement ventilation impact particle concentration in an office environment. The team also aimed to validate the computational fluid dynamics (CFD) model that Predict – Price's CFD analysis service – uses to simulate how particulate matter spreads indoors.
| | | |
| --- | --- | --- |
| | | |
| Graham Fediuk, Director of Engineering Services and Price Research Center North | Mike Koupriyanov, Manager of Advanced Research and Simulation – Predict | Dale Paskaruk, Air Moving Lab Leader – Price Research Center North |
To conduct this research and validate Predict's CFD model, Price team members Graham Fediuk, Mike Koupriyanov and Dale Paskaruk reached out to Dr. Qingyan (Yan) Chen, Professor Emeritus of Mechanical Engineering at Purdue University. Dr. Sumei Liu of the Tianjin Key Laboratory of Indoor Air Environmental Quality Control at Tianjin University also joined the team. This project was supported greatly by Price's Ryan Johnson and Alex Michaud.
| | |
| --- | --- |
| | |
| Dr. Qingyan (Yan) Chen of Purdue University | Dr. Sumei Liu of Tianjin University |
The research was carried out at Price's state-of-the-art laboratory, Price Research Center North (PRCN), in Winnipeg, MB, and involved four life-size mannequins, a particle generator and measuring instruments, including particle counters. You can read about the details of the team's test setup here.
In addition to underscoring the significance of increasing ventilation rates within an office environment to reduce particle concentration, the team's research revealed how the airflow patterns created by displacement ventilation improve indoor air quality by reducing the particle number concentration in the breathing zone.
Perhaps even more monumental for the Price team was the agreement between the CFD simulations and the experimentally measured data, confirming that the model accurately predicts the spread of particulate in real-world scenarios. This validation is important for future Predict consulting projects that relate to particulate transmission modeling.
Research and Development Manager Ryan Johnson (left) and Director of Innovation and Learning Alex Michaud (right) supported this project by assisting with planning the test setup and with reviewing the data
The Price-Purdue team's article will be published April 2022 and is currently available to read online. We extend our gratitude to Drs. Chen and Liu for sharing their expertise with us during what was a truly valuable collaboration. We'd also like to congratulate co-authors Mike, Graham and Dale, as well as Ryan, Alex and all other Price team members who assisted with this endeavor, on their successful publication and significant contribution to our company and the air distribution industry.