A Lifetime of Connecting with Others
Price's ever-growing team is made up of extraordinarily talented individuals from different backgrounds. We periodically profile a "person of Price" to give you a glimpse at the person behind all those emails or the voice at the end of the phone! This post: Todd Stovall.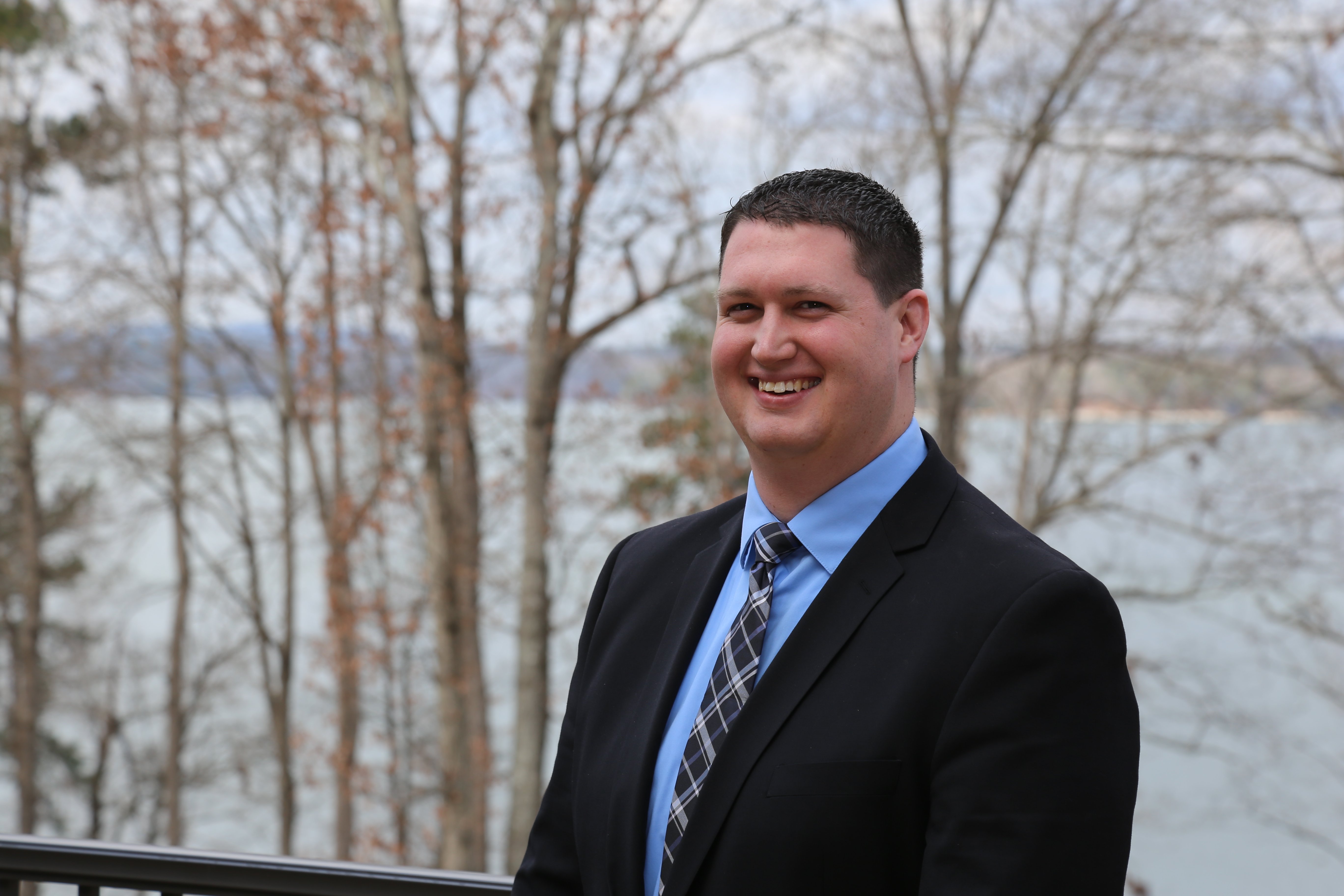 Price Industries: What is your current title and role at Price Industries?

Todd Stovall: I am the Area Manager of the southeastern US, covering Baltimore, MD, and Washington, DC, down to Miami, FL, and over to Louisiana. I am responsible for growing and educating our representatives in this territory, being plugged into what the reps need and acting as a conduit between them and Price.

PI: How long have you been with Price Industries, and what other roles have you worked in since you started?

TS: June 2021 marked seven years at Price for me. I started working at Price in Critical Environments as an Application Engineer, helping our customers understand how to design, use and sell hospital systems. I was new to HVAC, so learning about the industry, especially a segment that is so heavily regulated, was a fun challenge. I then moved into specials design for active and passive beams. This was a great opportunity to work closely with the factory. From there, I went to application engineering with the beam team, helping engineers and reps understand how the products are applied and used to create a better system. The last role I had before my current one was a Technical Sales Engineer role, which transitioned me from beams to the Area Manager role I hold now.

We have such a diverse product offering that takes time to learn, and this transitional role gave me a glimpse into different departments, our business units, the lab and our factories, which ultimately helped me be a better resource for our reps.
PI: How did you find yourself in your current area of specialty – was it a lifelong interest and aptitude, or did it evolve later in life?

TS: I was always interested in the mechanics of how things work. My dad is an electrical engineer by study, and he always had stuff for me to tinker with. I remember working on house projects with him and having long conversations about how things went together. We built different things for my mom, converted a garage into a game room and even reroofed our house. I had Legos, Build-a-Blocks and K'Nex, and as I got older, the toys became bigger, and I worked on my cars myself for a long time. Now that I am a homeowner, I do those same projects in my own home.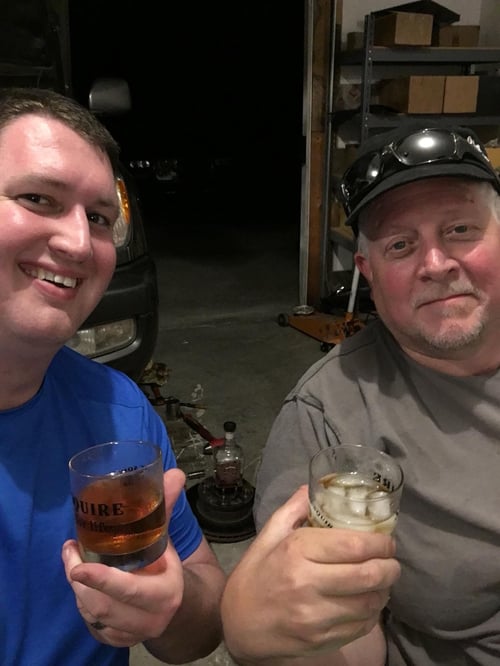 Todd and his father-in-law, Patrick, enjoy a whiskey break after some bonding time working on cars together
I find so much satisfaction in taking something apart, putting it back together and understanding it better. When it came time to attend university, mechanical engineering was an easy fit.

PI: What was the career path that brought you to Price, and what was it about Price that inspired you to join this team?

TS: I've had many different jobs in my life, and all of them shaped me in different ways. Playing football took up most of my personal life in high school, and what little time I did have I put into being a state officer for my youth group.

My first real job was working at Chick-fil-A as a waiter. Yes, some Chick-fil-As have waitstaff! That job showed me that I had a real ability to talk to and connect with people. Through university, I worked a variety of internships at different mechanical firms. I've worked as a mechanical drafter, coded for CNC machines, installed thermostats, valeted cars and even worked at a liquor store for a brief time.

My first job after getting my engineering degree was working as a manufacturing engineer at a small company just south of the Atlanta airport. There, I wore a lot of hats – IT, maintenance, janitor – you name it, I probably did it at some point. While searching for a new opportunity with a big company, I found Price and saw there was a lot to like from the outside looking in: a good-sized company with a lot of opportunity and close to where I grew up. At my interview, I could see the passion and drive from those who had been at Price a long time – I think everyone who interviewed me had been with the company for more than 15 years, which said a lot to me about the company. I connected with the Price team right away, and those relationships are still strong today! Joining Price has been nothing short of a blessing. The people I get to work with every day really do feel like family.

PI: What are some industry developments that you've seen in your time within the field that have changed the way you think and work?

TS: If you had asked me that two years ago, I may have said less about changes in the industry and more about changes at Price that keep expanding what we do, but COVID-19 has changed everything.

The first big change is how we interact both internally and externally. Video conferencing software that was once used occasionally quickly became the norm. And as someone who was used to traveling 60%–70% of the time, I found staying home all the time to be a big adjustment. I had to relearn how to do my job and how to be most effective at it. Thankfully, technology has allowed me to stay connected with my team, our reps and their customers.

Another big shift is how we view air distribution. Before the pandemic, we focused on energy efficiency and reducing system strain. Now we're focusing on providing cleaner air and safe air environments. This has created new products, new approaches to design, new strategies and renewed attention to years-old design standards.

PI: What is your favorite project you've worked on in your time in the industry?

TS: I find that my current role is really a good fit for me. I get satisfaction from helping reps understand our products and helping their customers as well. Working closely with our rep network creates a new challenge every day, and it never gets boring. Being so involved in the day-to-day and covering a large territory constantly provides new experiences. As a company, we are always striving to evolve, and being involved in internal projects that help with future growth gives me a lot of pride. I thoroughly enjoy working at Price, and being given the opportunity to have an impact on the company is a true joy for me.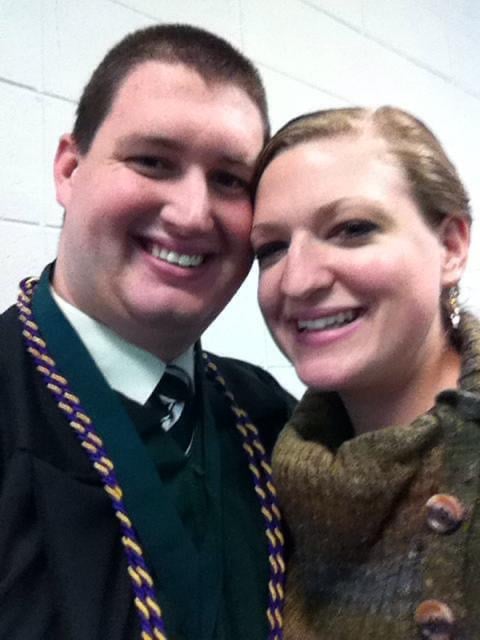 Graduation day at Southern Polytechnic State University in 2012 with his then-fiancée (now wife) Katy by his side
PI: What do you feel is the biggest contribution you have made to the professional community?

TS: Having worked in a rep-facing role for most of my time at Price, I feel that I have had wins in many different ways, from helping engineers, owners, reps, contractors and others when they are working with us on different projects to designing an operating room, an office with chilled beams or an FDC-DOAS low-profile terminal unit project. I have always appreciated helping people, and seeing a project from design through construction and into operation is very rewarding.