The Evolution of a Performing Artist Turned Mechanical Engineer
Price's ever-growing team is made up of extraordinarily talented individuals from vastly different backgrounds. We'll be profiling a "person of Price" to give you a glimpse at the man or woman behind all those emails or the voice at the end of the phone! This issue: Joe Florer.

Joe Florer, Manager of Strategic Accounts
Price Industries: What is your current title and role at Price?
Joe Florer: I'm the Manager of Strategic Accounts, which means that I still hold responsibility for the growth and development of reps in my territory (Texas), but I also am responsible for driving growth and opportunities through strategic partnerships with other companies. On the rep side, I act as the primary liaison for communication between rep and manufacturer in an effort to ease their transactional business. On the Strategic Account side, I am the main point of contact in helping drive Integrated Product solutions with a large architectural manufacturer, not only identifying integration opportunities but also turning those opportunities into tangible sales for our rep force.
PI: How did you find yourself in the engineering field – was it a lifelong interest and aptitude, or did it evolve later in life?
JF: While I was a precocious student with a strong aptitude towards math and science (and a keen LEGO and K'NEX enthusiast!), my primary focus in my early years was actually towards music. I grew up playing classical piano, and graduated with my Performing Arts bachelor's degree in piano performance in 2009, bringing me closer to my ultimate goal of attending graduate school and becoming a traveling performer.
2010 was the year of reckoning, however, as I spent the entire year practicing, preparing and applying for grad school. While I was flattered to receive invitations to audition for prestigious music schools across the country, I realized as year's end was approaching that a life and career as a traveling musician would not offer the type of stability and career opportunity I wanted. In January 2011, I started back in remedial math at community college (having not taken a math class since high school in 2006). While working full-time, I also attended classes full-time/year round until graduating with a degree in Mechanical Engineering from the University of Texas at Dallas. I realized early that in order to achieve the opportunity I had always envisioned, I would have to make some sacrifices. I sacrificed holidays, weekends, time spent with family, friendships, all so that I could hopefully build a better life for myself than what a career in performing arts would have ever allowed.

Growing up, Joe's primary focus was music, graduating with a Performing Arts bachelor's degree in 2009
PI: What was it about Price that inspired you to join this team?
JF: Most important for me is that I feel valued, that my opinion matters and that my ideas can manifest into something real. In our area of the industry, Price has a strong reputation for continuous innovation and investment back into the company. We have the freedom to imagine, create and execute, which to me means everything.
PI: What are some industry developments that you've seen in your time within the field that have changed the way you think and work? Are there any developments in the works that you are particularly excited about?
JF: There is increasing forward momentum towards creating "integrated systems." To me, integration means that products and technologies which have coexisted for decades are now merging and synergizing, creating an entire new design environment for the commercial construction industry. I'm particularly excited about the advancements in architectural integrated solutions, both aesthetically and acoustically. Miscommunication between architects and engineers can create a lot of frustration and confusion. Creating a common design language which is simple to understand and easy to speak is of paramount importance in my mind. Streamlining the design process will help eliminate oversight, improve communication and help building owners get higher quality buildings more cost effectively.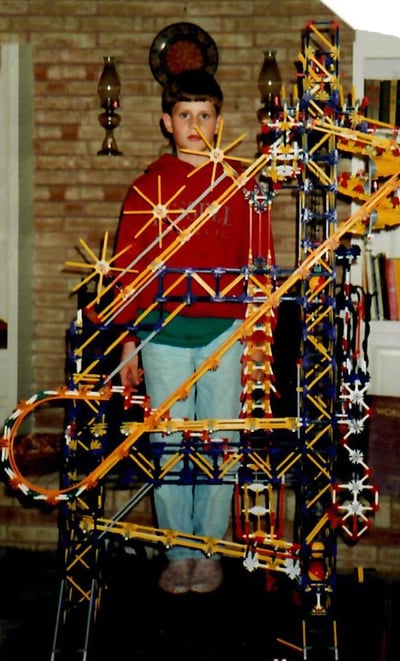 An engineer at heart, even in his early days
PI: What is your favorite project you've worked on in your time in the industry?
JF: In early 2018, Price entered into an exclusive partnership with Armstrong Ceilings, the leader in the architectural industry for commercial ceiling and wall applications. We've spent much of this past year co-developing new products, re-imagining ways to integrate existing products and conveying the utility and value of the Price-Armstrong Ceilings partnership to both the architectural and engineering design communities. I believe we've only scratched the surface of what the partnership will become.
PI: What do you feel is your biggest contribution to make to the engineering community?
JF: We as a manufacturer have a responsibility to look at the engineering community through a macroscopic lens and ask ourselves if the products and technologies that we are creating do indeed fill a current need. My time in the industry may be short, but the breadth of my experience is varied, and I feel that the unique perspective I've gathered from my time spent in music and the arts allows me to think outside the box in an unexpected way. I do not believe I will find another company as willing to nurture that perspective, fuel that imagination and invest in that future as Price Industries.