A Career of Connection, Communication and Storytelling
Price's ever-growing team is made up of extraordinarily talented individuals from different backgrounds. We periodically profile a "person of Price" to give you a glimpse at the person behind all those emails or the voice at the end of the phone! This post: Gabriela Rosales.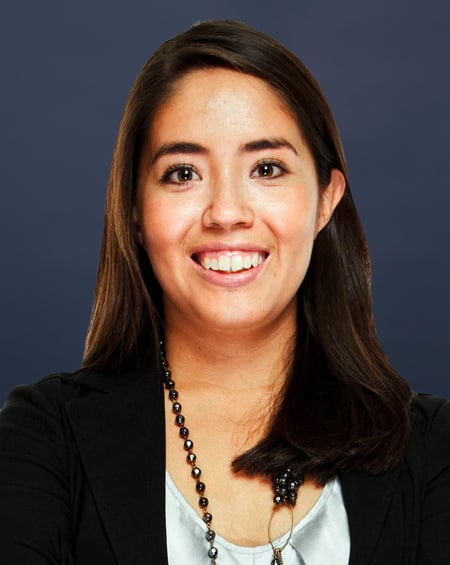 Price Industries: What is your current title and role at Price Industries?

Gabriela Rosales: I'm a Senior Marketing Manager within Price's corporate Marketing team. I work with the different product groups and businesses at Price to understand their markets' needs, what's trending in the industry and how best to engage with our customers.

I also lead Marketing's account management team, which consists of Marketing Associates and Managers, a Marketing Analyst and our Corporate Content Editor. As a team, we aim to understand the goals of the internal customers we work with, develop marketing strategies to meet those goals and then work with our talented creative team to implement those strategies.

PI: How long have you been with Price Industries, and what other roles have you worked in since you started?

GR: I've been working at Price for eight years since joining the Marketing department in 2014 as a Marketing Associate. A few years later, I moved into a Marketing Manager role, and two years ago I was promoted to Senior Marketing Manager. During my time, I've had the pleasure of working with almost every product group and business at Price. Having this diverse exposure has allowed me to become more attuned to our business as a whole. Although each group has different goals and objectives, I'm able to draw on the lessons we've learned and best practices from all groups to better serve each customer.

PI: How did you find yourself in your current area of specialty – was it a lifelong interest and aptitude, or did it evolve later in life?

GR: Growing up, I never thought I would end up in marketing. In school, I exceled in math and sciences and thought about going into medicine. Then during my first year of university, I found my courses didn't resonate with me. After reflecting on my strengths and what types of projects I was passionate about, I decided to change career paths and go into business school. I've always been someone who enjoys working with others, solving puzzles and learning new things, and while in business school, I saw how I could apply these passions to a career in marketing.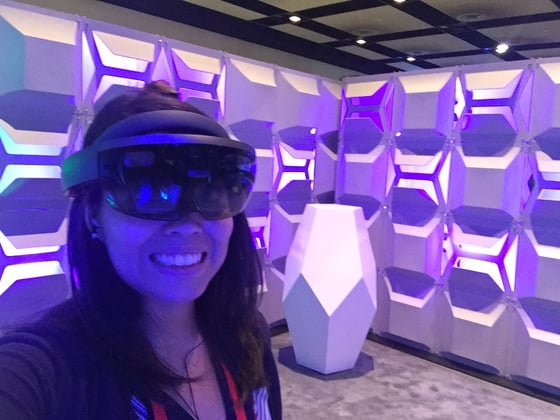 Gabriela at her first VR conference, Augmented World Expo in Santa Clara, CA, in 2017
I see the role of a marketer as someone who gets to work closely with several departments in an organization to develop a deep understanding of the company value proposition. Marketers are constantly working to solve the riddle of what will resonate with consumers, and they must always stay up to speed with the latest trends in marketing. Twelve years since graduating, I'm still very glad I shifted careers!

PI: What was the career path that brought you to Price, and what was it about Price that inspired you to join this team?

GR: While in university, Price sponsored a student marketing conference and gave a presentation on its Marketing department and initiatives. I remember being blown away that a local HVAC company had such a sophisticated team. Most companies tend to outsource their marketing to an agency, and the fact that Price did everything in-house (3D, graphic design and video) was very impressive. I told myself that if Price ever had an opening, I would have to apply! In 2014, I was considering a change in position from my previous employer when I got a call that Price was hiring. I jumped at the opportunity – and haven't looked back since.

PI: What are some industry developments that you've seen in your time within the field that have changed the way you think and work?

GR: Since starting my career in marketing, things have been changing nonstop; it's what makes my role so exciting. Now more than ever, consumers face information overload as businesses have numerous ways of reaching their customers – it seems that every year there is a new trending app or platform that individuals are using.
Consumers are also expecting more from businesses; they want to buy from companies that stand for something and share their values. This means we are constantly having to understand and analyze where consumers are going for information (such as social media, print and events), what's trending in the market (such as air quality, sustainability and supply chains) and making sure that we have a focused message that clearly communicates our value proposition.

PI: What is your favorite project you've worked on in your time in the industry?

GR: I don't know that I have one favorite project, but my favorite types of projects are ones where I get to tell a story. Over the years, I've gotten to work on several recruitment campaigns with AROW Global. With each campaign, we focus on highlighting the people who work there and AROW's unique corporate culture.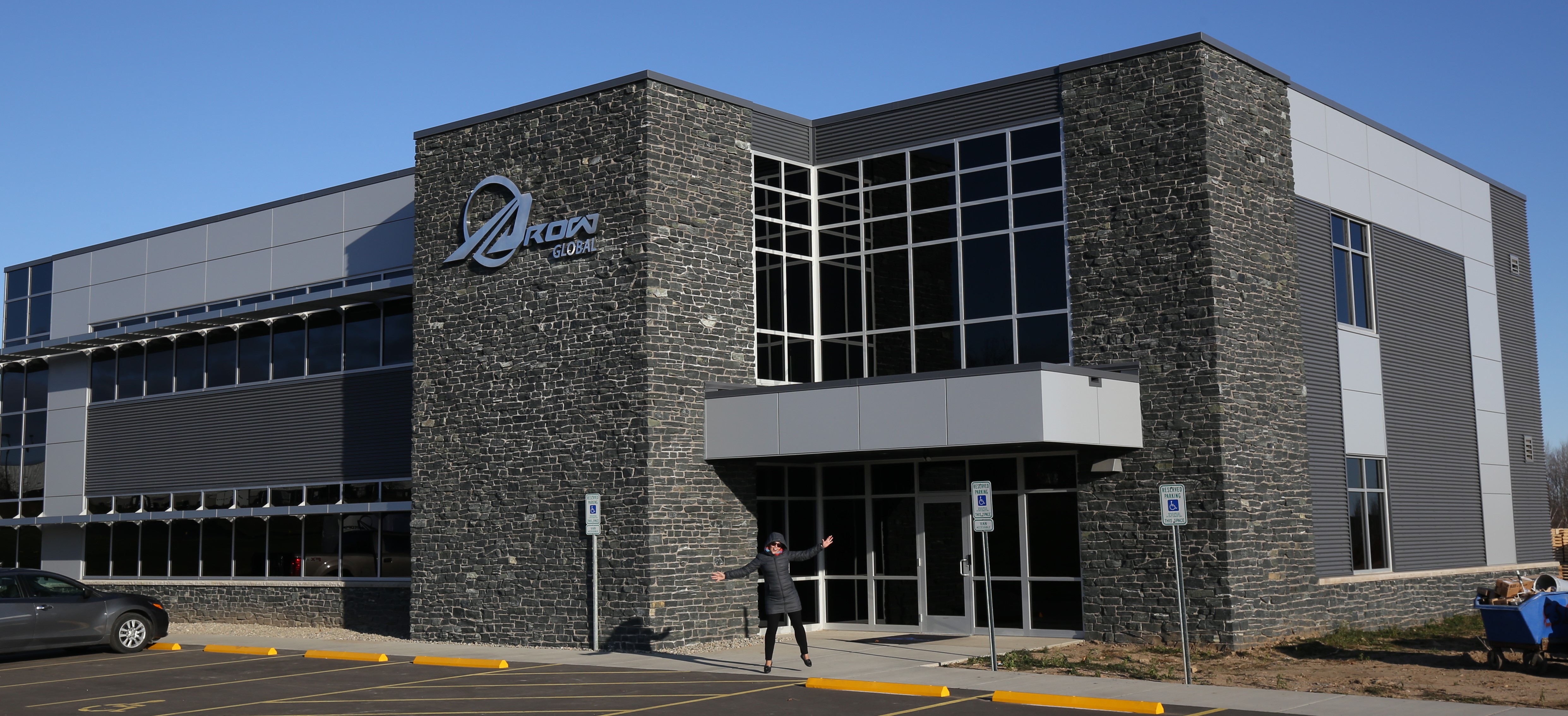 Some of Gabriela's favorite projects have been with AROW Global, Price's vehicle-window business
Together with the AROW HR team, we always try and get a cross section of individuals from different departments and backgrounds to feature in the campaigns. For us, it's important to show that there are different opportunities in manufacturing and that it is through sharing the personal experiences of employees that we can best tell the story of what makes AROW such a great place to work.

PI: What do you feel is the biggest contribution you have made to the professional community?

GR: I believe my biggest contribution has been finding ways to communicate the science and technical aspects of our products to the non-engineering community. Traditionally, we have focused our marketing efforts on engineers and reps. However, over the last two years we've seen a shift in the market where consumers are looking for solutions to improve indoor air quality – teachers and parents wanting to make sure classrooms have clean air, for example.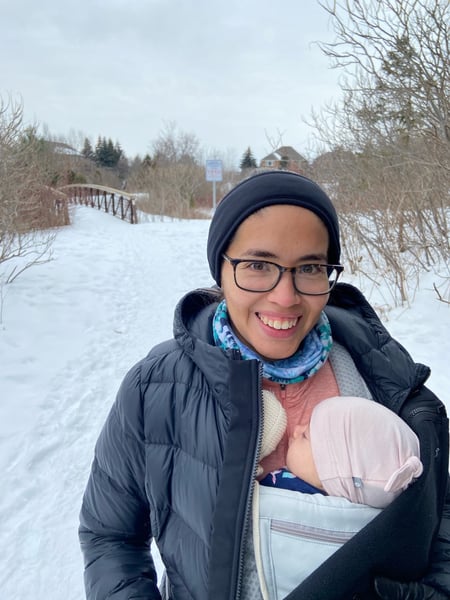 Gabriela with her newborn daughter, Olivia, January 2022
A few years ago, I started working with our Predict computational fluid dynamics (CFD) team to develop virtual reality experiences. Using simulated data, we were able to create virtual full-scale walk-throughs demonstrating how various HVAC products perform in a space. For someone like me, with no engineering background, this was a powerful way of learning about how different HVAC products and air distribution technologies work.

Instead of trying to understand technical specs and performance data, users can enter various spaces and see where the air flows, how temperature is distributed, the air quality of different systems and various other performance metrics. In a time when your everyday consumers are aware of the air they are breathing, these virtual experiences are a great way of educating them on the best solutions for improving indoor air quality.