The Importance of Hands-On Solutions and Creative Thinking
Price's ever-growing team is made up of extraordinarily talented individuals from different backgrounds. We periodically profile a "person of Price" to give you a glimpse at the person behind all those emails or the voice at the end of the phone! This post: Alex Michaud.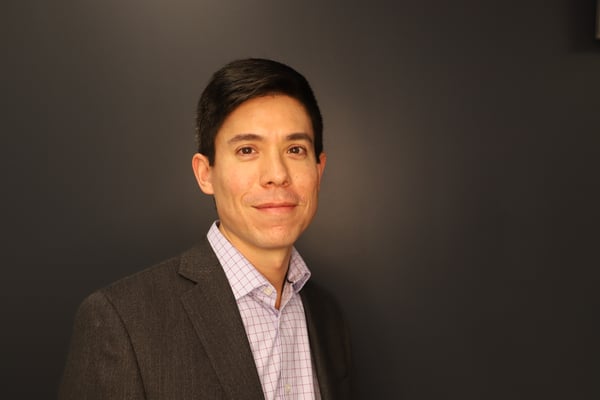 Priceless Industries: What is your current title and role at Price Industries?
Alex Michaud: My title is Director of Innovation and Learning. I am responsible for our training and education programs, which include the Price Technical Centers (PTCs), Engineering and Rep Training classes, webinars and new initiatives like the New Hire Rep Training and the Price Engineer's HVAC Handbook. I also focus on leading industry perspective and early-stage product categories, with recent examples being air purification and fabric duct.
PI: How long have you been with Price Industries, and what other roles have you worked in since you started?

AM: I have been with Price for a little over 10 years, joining in the summer of 2012. My initial role was overseeing the Noise Control business unit as Senior Product Manager. This was a great opportunity to work with all departments, including application engineering, product development, marketing, sales and production. It also put me in front of customers and helped me understand their needs. After four years in that role, I transitioned to focus more on sales and business development as Director of Noise Control Products. A little over four years ago, I started in my current role, which still has me working with various internal departments and our many great customers.
PI: How did you find yourself in your current area of specialty – was it a lifelong interest and aptitude, or did it evolve later in life?

AM: I have always been curious and have enjoyed the process of creating, which is important in my current role. At Georgia Tech, I was a teaching assistant for several engineering courses and a tutor for university athletes. I ran the acoustics lab in graduate school, which included giving tours and explaining how things work, similar to what we do in our Technical Centers. Both those experiences have served me well in my current role. Having been an engineering consultant before joining Price, I always looked forward to site visits and seeing actual products instead of writing long reports. I have always enjoyed the hands-on training aspect of our Technical Centers, along with finding new ways to convey information beyond the usual literature or "death by PowerPoint" approach. My role also requires some creativity for coming up with new content and methods, which is something I have always enjoyed.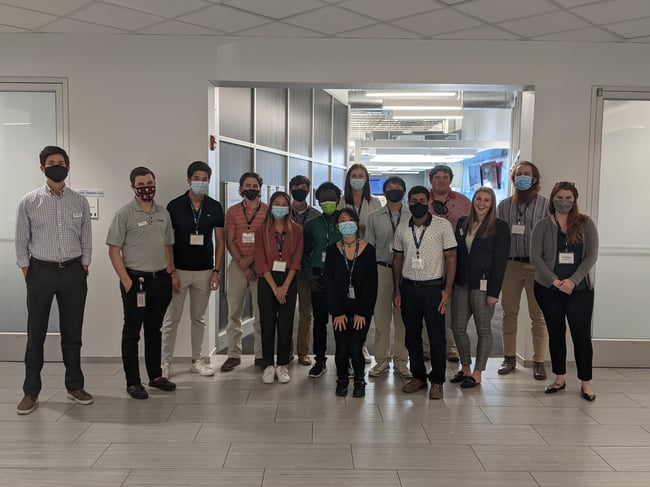 Alex (left) with a tour group from the University of Georgia during a visit to Price Technical Center East (PTCE) in September 2021
PI: What was the career path that brought you to Price, and what was it about Price that inspired you to join this team?

AM: I was an acoustical consultant before joining Price, and that experience taught me much about project dynamics. I spent time designing solutions and visiting project sites, but I often never saw the final result. The opportunity to create real solutions at Price instead of writing technical reports was very attractive. My first set of interviews included Marv Dehart, Chuck Fraley and Jerry Sipes, all of whom I immediately found to be genuinely good people with a wealth of industry experience. Visiting Price Research Center North (PRCN) during the interview process to meet the team and see the facilities was also impressive. I saw a company that was already doing very well with good people and that also had massive growth potential ahead. Who wouldn't want to join a team like that?
PI: What are some industry developments that you've seen in your time within the field that have changed the way you think and work?

AM: Reducing field labor continues to be important. This can include reducing the number of product sizes (using only 24-by-24 in. diffusers instead of various sizes, for instance) and offering factory-mounted components such as piping packages and terminal silencers. Another development is the continuing reliance many consulting engineers place on their sales reps and manufacturers to provide product layouts and selections. Both these developments parallel what we've seen across all markets – a desire to "farm out" responsibilities, which represents a huge opportunity for Price and our reps to provide desired services and value-adds that previously were performed by consultants or contractors. Finally, a renewed focus on indoor air quality will hopefully result in much healthier spaces for everyone going forward and aligns well with our science-based expertise on optimized air distribution for the indoor environment.
PI: What is your favorite project you've worked on in your time in the industry?

AM: As an engineering consultant, one of my favorite projects was renovating the National Museum of Natural History, West Wing at the Smithsonian Institution. This space was mostly interactive, much like our Price Technical Centers, and most of our focus was on trying to reduce noise transmission between open spaces (a similar issue can occur in our Technical Centers when there are multiple tour groups).
At Price, some of my favorite projects have focused on noise associated with Price products. One of these was a renovation project at the University of Chicago Saieh Hall for Economics, addressing perceived noise around exposed Price chilled beams. We determined during a site survey that noise was actually caused by upstream dampers from another manufacturer and came up with a simple field fix to achieve acceptable noise levels within the space.

Another was a new concert hall with Price underfloor diffusers that the project's acoustical consultant claimed were too loud. It turned out that after we did PRCN mock-up testing, the acoustical consultant did not calculate the total noise level from numerous floor diffusers in the space, which was around 15 dB higher than a single diffuser. In the end, Price worked with our local rep and the acoustical consultant to make things whole.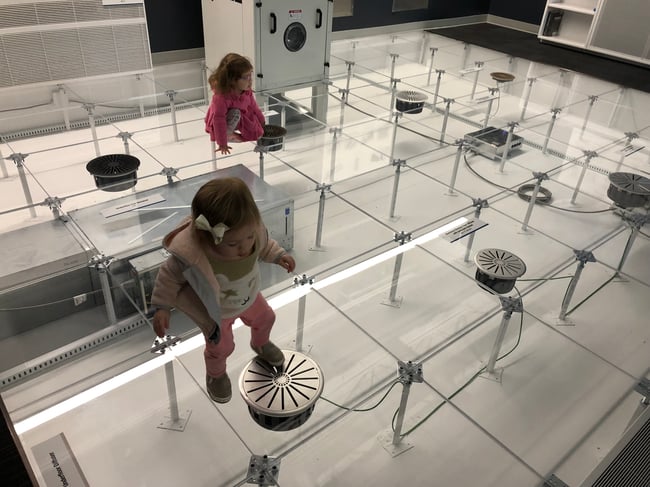 During a visit to Price Technical Center East (PTCE) in December 2018, Alex made a point of teaching his daughters about the benefits of underfloor air systems
PI: What do you feel is the biggest contribution you have made to the professional community?

AM: It was very satisfying to develop and release the Acoustic Analysis software program that is used by many acoustical consultants. We have received a good deal of positive feedback on it, and I am sure it has saved thousands of hours and provided a much improved platform compared to the Excel spreadsheets many were used to working with. Introducing the Return Air Canopy (RAC) was also satisfying since Noise Control products are always unique for each project. RAC has saved countless project hours and dollars by providing a lab-tested and cost-effective solution that is also an ideal warehouse item for Price reps to stock. It is crazy to think that over 100,000 RACs have been sold since they were first introduced in 2015!