Celebrating the Book's Release with the Price Team
September 27, 2023, was the official release day of I'm Just Gerry – like an Ant on a Blueberry Pie: Building a Forever Company the Price Way. In this book, professional author Rob Wozny tells the story of how Gerry Price took Price Industries from $30 million in sales to more than $1 billion, expanding its operations from Canada into the US and beyond and molding it into the organization that it is today.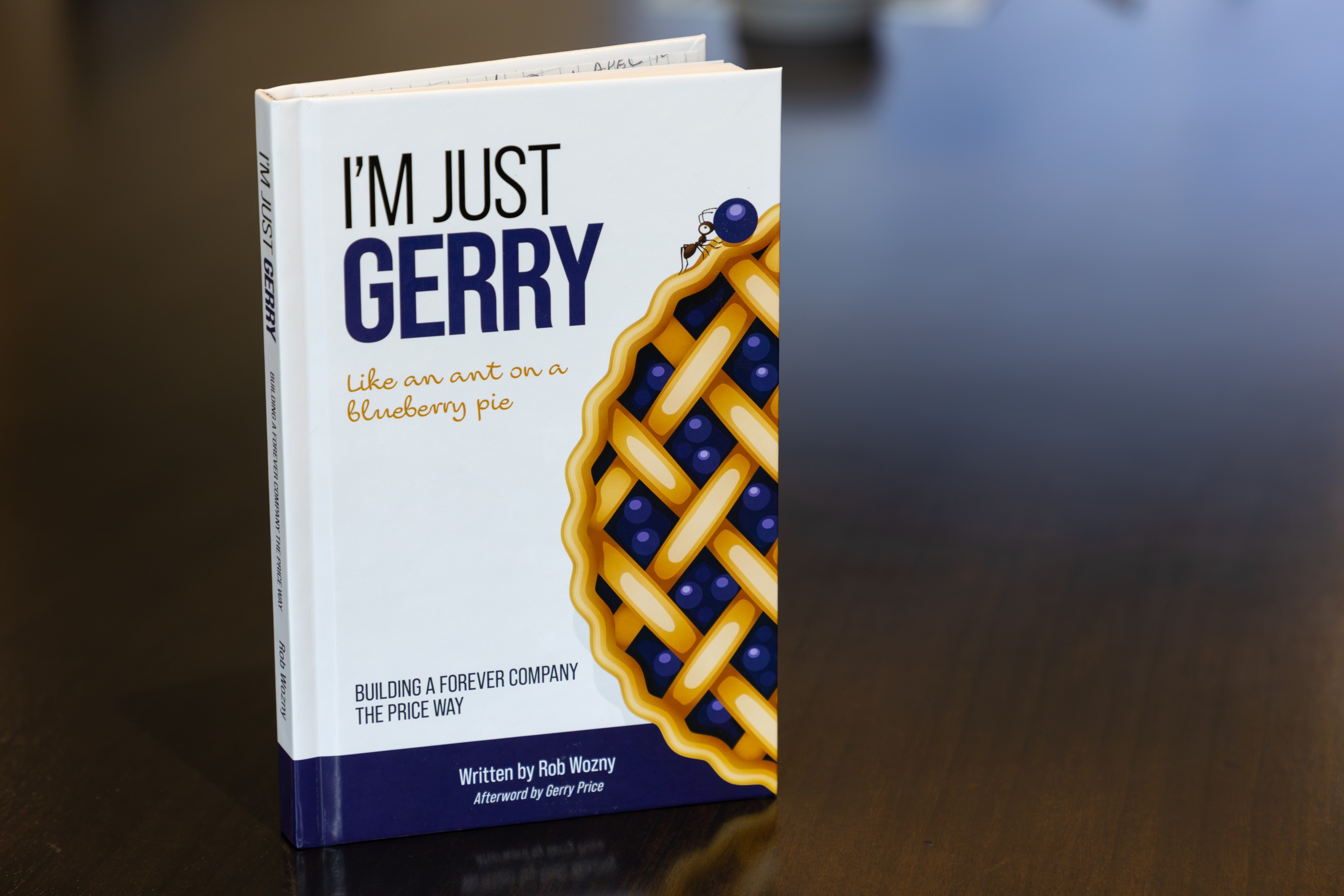 In addition to documenting a significant period in Price's history, the book lays out the 13 Tenets that make up the Price Way, codifying these guiding principles for our current and future team. Also included in the book is an afterword written by Gerry himself, in which he reflects on significant milestones during his time at Price.
The book's publication is the culmination of 18 months of planning, research, writing, fact-checking and many rounds of edits – not to mention nearly 40 hours of interviews with dozens of contributors. "I appreciated how honest and open everyone was during the interviews," Rob said when asked about the project. "The quality of candor and context was remarkable, with every interviewee having a unique Gerry or Price story to share. That kind of openness and transparency in most company cultures doesn't normally come that easily, even when it's encouraged."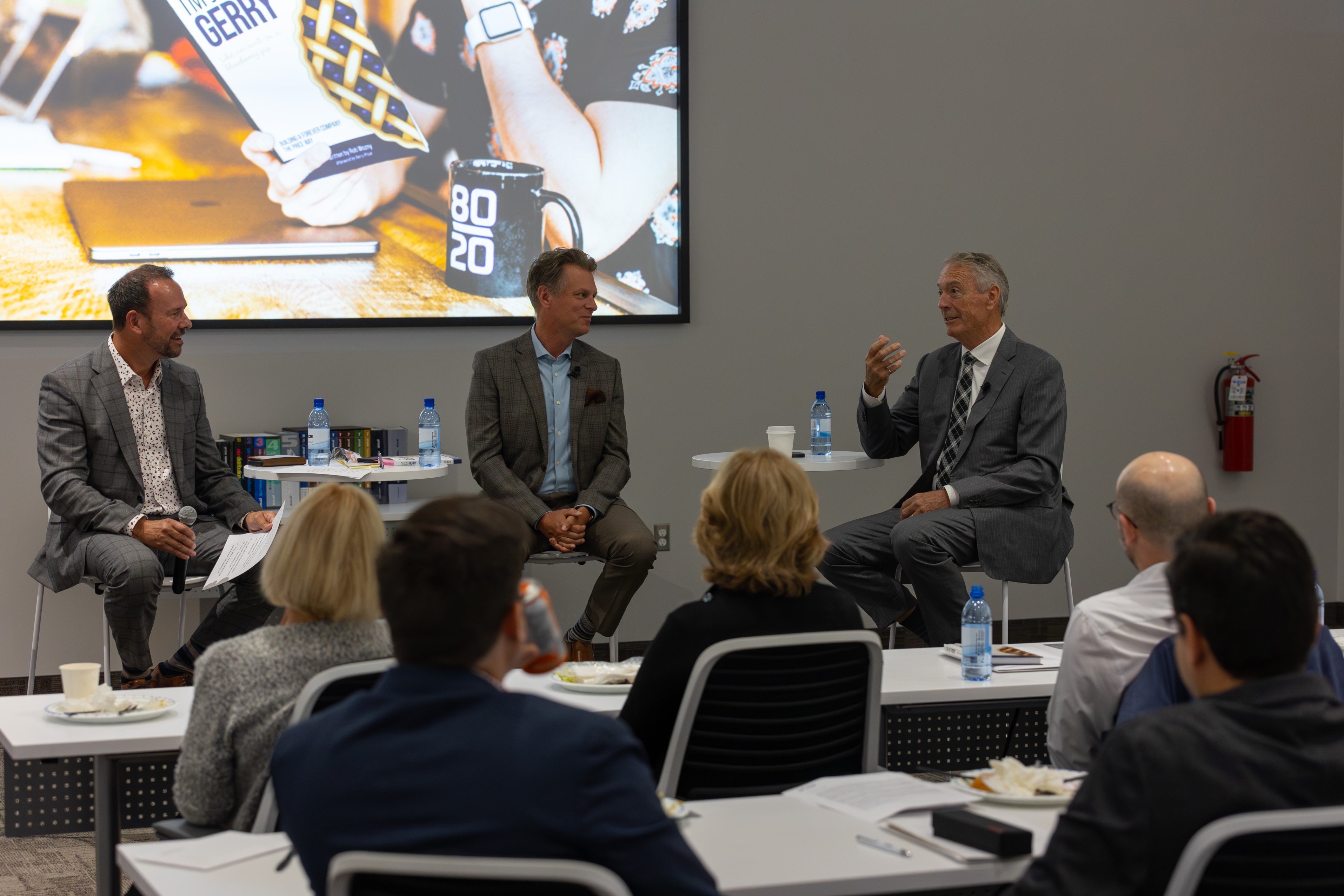 Left to right, Greg Loeppky, Rob Wozny and Gerry Price took part in a Q&A session about the book's creation
We've spent the last month celebrating the book's publication with our teams across Canada and the United States. Every Price team member received a copy of the book, and we've been loving everyone's excitement around learning about Gerry's experience leading Price and how the Tenets helped him along the way. "The book captures everything that the Price Way is about," said Aaron Schoonbaert, COO of Price Industries in the US. "I'm glad we'll have this to pass on to every new member of the Price team."
Every Price employee received a copy of the book, along with a sweet treat to celebrate its release
"I'm Just Gerry emphasizes the true importance of resilience, innovation and long-term thinking," said Chris Dziedzic, General Manager of Noise Control. "It inspires individuals to create businesses that transcend generations."
The publication of Gerry's story goes beyond those connected to Price; net proceeds of all sales will go to the Price Family Foundation, which supports education, healthcare and programs that assist families in our communities.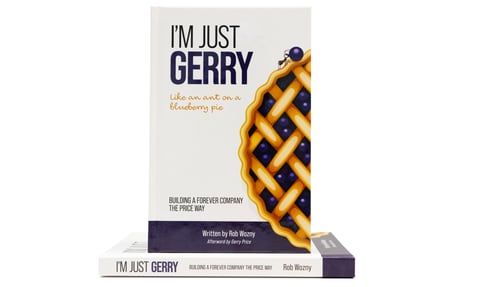 Click to order your copy today!
To learn more about the author, Rob Wozny, visit www.robwozny.com. And to find out more about I'm Just Gerry and to order your copy, visit www.imjustgerry.com.