Providing Optimal Performance and Flexibility for Your Project
HVAC systems today are more varied and complex than ever, and when each project brings new challenges and unique requirements, we need solutions that are highly adaptable. The BCHD Direct-Drive Horizontal Blower Coil is a made-to-order solution that offers flexibility between a central station air handler and a traditional fan coil unit. With a large airflow operating range, a plethora of options and a compact footprint, the BCHD provides optimal performance in a wide variety of applications.
This unit is an excellent choice for applications with substantial heating or cooling requirements and when high external static pressures are required. Its capabilities allow for several air outlets and long duct runs when the BCHD is supplying air to one or multiple zones. Each BCHD can be equipped with up to eight rows of water coils in singular heating or cooling applications and up to 10 total rows of water coils in preheat or reheat configurations.
The BCHD is ideal for a wide range of entering water temperatures in heating or cooling thanks to the different coil row and circuit configurations available. Additionally, with high sensible capacity being critical in dedicated outdoor air system (DOAS) applications, the BCHD can be equipped with a dedicated fresh-air inlet that allows for precision fresh-airflow monitoring and control.
The BCHD also thrives in hospitals and laboratory spaces. Fiber-free liners provide superior thermal insulation without the use of traditional fiberglass insulation, and solid-metal liners are available when complete isolation between the liner and airstream is required.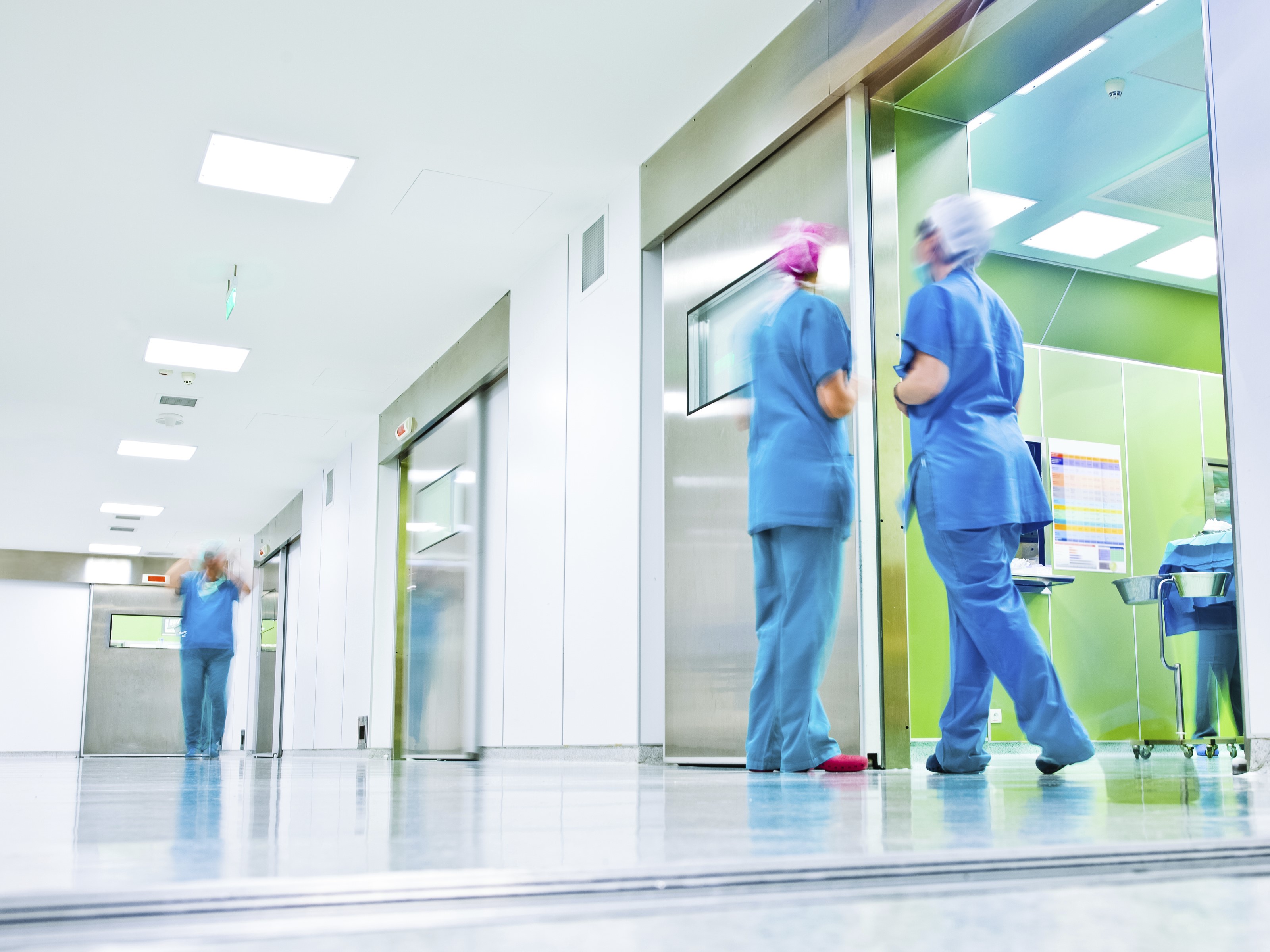 With fiber-free liners, MERV 8 or 13 air filters and a low-profile design to save ceiling space, the BCHD is an excellent choice for hospitals
The BCHD can be equipped with 2-inch MERV 8 or MERV 13 air filters to ensure the long life of working components and to provide superior indoor air quality for occupants. By using 2-inch filters with an increased media surface area, static pressure requirements are reduced, which contributes to a wider range of achievable airflows and lower sound levels and power consumption. Discharge silencers can also be included for sound-sensitive applications.
Ceiling space is often limited in hospitals and labs, which the BCHD addresses with its low-profile construction and unique bottom-access panels. Space is further conserved by addressing the thermal loads of the zone (or zones) with hydronic systems, as the BCHD requires no ductwork from a primary air handler.
To maintain pace with the ever-advancing HVAC industry, the BCHD couples EC motor technology with high-efficiency blowers for superior energy efficiency and control. These intelligent motors are available in modulating, three-speed and single-speed configurations to allow for a wide range of sequencing options to best suit the application.
The motors are also equipped with high turndown flow programs and are paired with the Price ECM Speed Controller to allow for high turndown with building automation system (BAS) or stand-alone controls. These direct-drive motors reduce system complexity and maintenance when compared with similar units with belt-driven motors.
Time is money on jobsites, so the BCHD was designed to keep installation and maintenance as simple as possible. These units ship preassembled from the factory with through-bolt holes that allow for rapid hanger rod suspension. Factory-mounted valve and piping packages are available to further reduce on-site workload.
Watch exactly how factory-mounted piping packages save time on the jobsite
OSHPD-certified construction is available on these units for regions with seismic considerations, and the direct-drive motor-blower assembly and EC motor speed controller allow jobsites to be commissioned quickly and efficiently. When it comes to changing filters, completing inspections and performing maintenance on the units, removable side and bottom panels provide easy access to both the interior of the unit and the filter rack.
For more information about how the BCHD Direct-Drive Horizontal Blower Coil can be used in your next project, reach out to your local price representative or email us at airmovement@priceindustries.com.