Understanding the ASHRAE 170 Requirements for Airborne Infectious Isolation Rooms
An airborne infectious isolation room, or AIIR, is a type of isolation room that isolates patients infected with organisms that can spread via small airborne droplets (less than 5 µm diameter). The purpose of an AIIR is to prevent the spread of infectious diseases from an infected patient to others. AIIRs are designed according to the requirements of ASHRAE Standard 170: Ventilation of Health Care Facilities.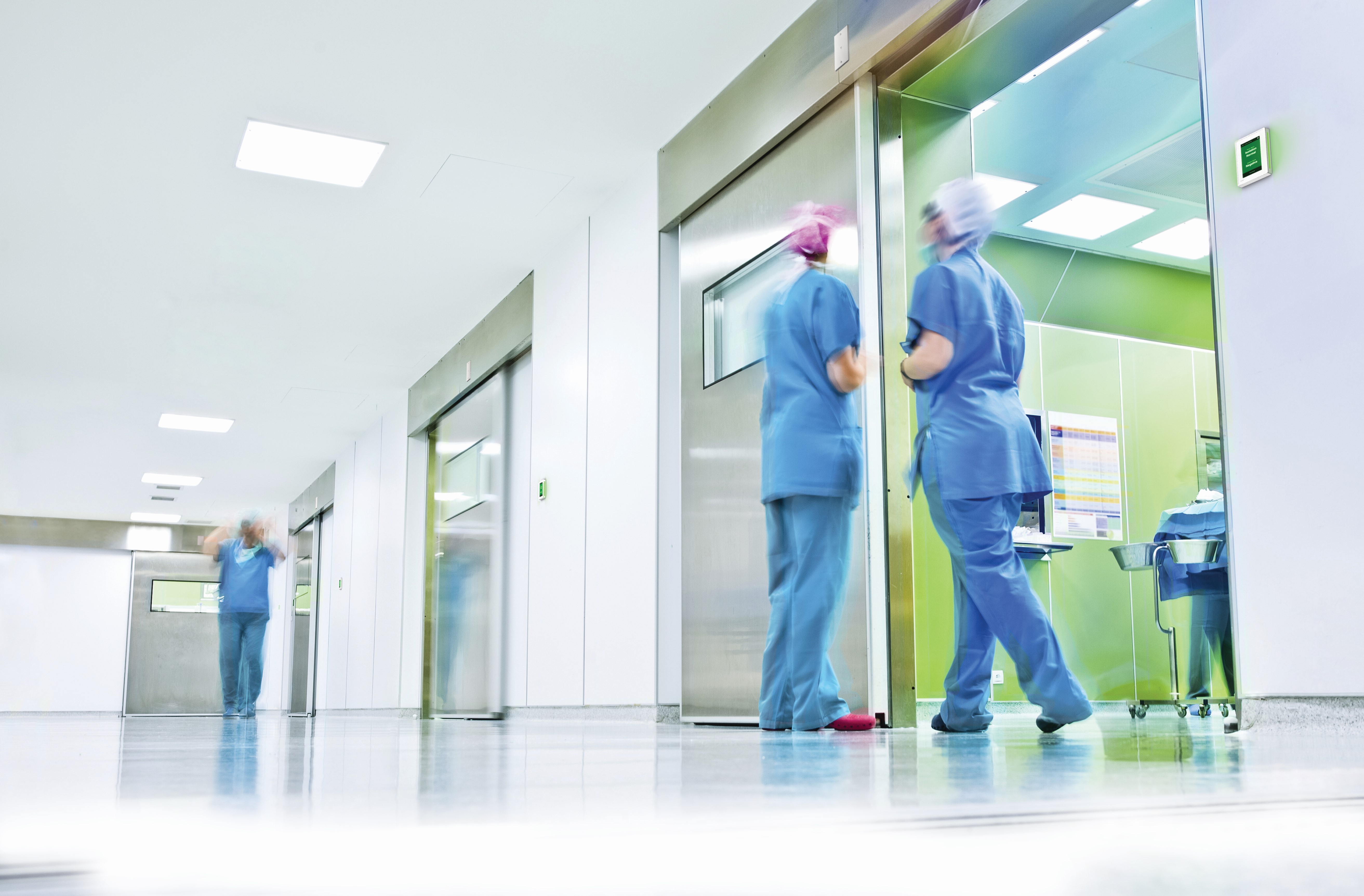 The Antec Controls Touchscreen Room Pressure Monitor (PMT), seen here mounted outside each AIIR, provides visible and audible alarms if room pressure is lost
Ventilation
The ventilation system within an AIIR should be designed to move air from clean to less clean areas by having supply air at the room entrance and exhaust air leaving near the head of the patient bed. Moving air from the room entrance to the patient bed helps protect staff and visitors from contagious patients.

Supply air must be MERV 14 filtered (minimum) and ducted to horizontal-throw mixing diffusers or vertical-throw diffusers (Radial Flow Diffusers are common in these applications). AIIRs must have at least 12 air changes per hour, two of which must be with outdoor air. Recirculated HEPA-filtered airflow within the AIIR is permitted to increase the equivalent room air change rate; however, the minimum outdoor air changes are still required.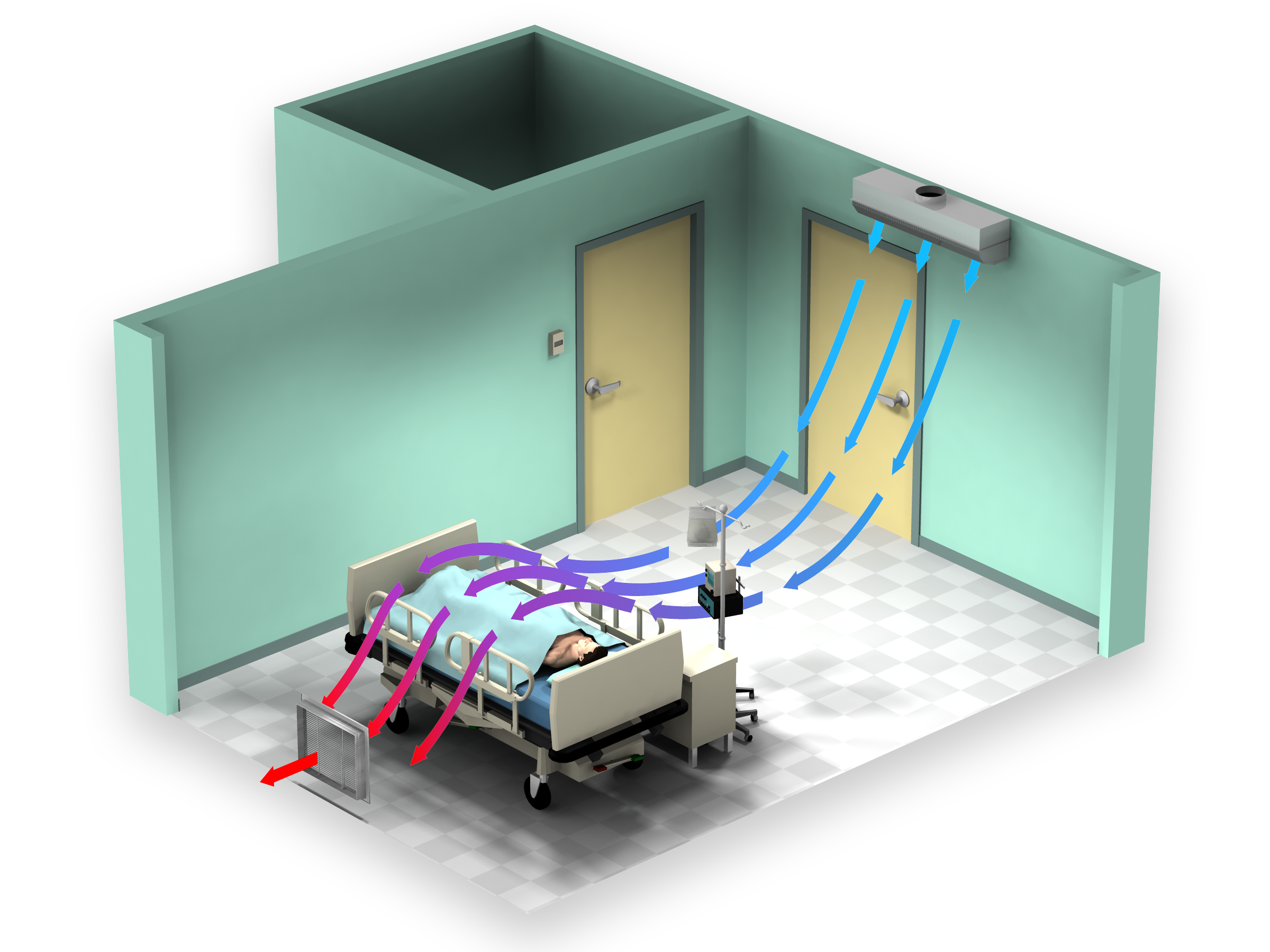 AIIR airflow is supplied near the room entrance and exhausted near the head of the patient bed
Room Pressure Differential
Differential pressure must be a minimum of -0.01 in. w.g. (-2.5 Pa) between the AIIR and adjacent spaces (except the toilet room). Negative pressure inside an AIIR is critical to negate room leakage and ensures that all air leaving the isolated space travels through the intended exhaust system. AIIRs also require a permanently installed pressure-monitoring device with a visual alarm that indicates when room pressure is outside the required operating range. An example of a suitable pressure monitor is the Antec Controls Touchscreen Room Pressure Monitor (PMT).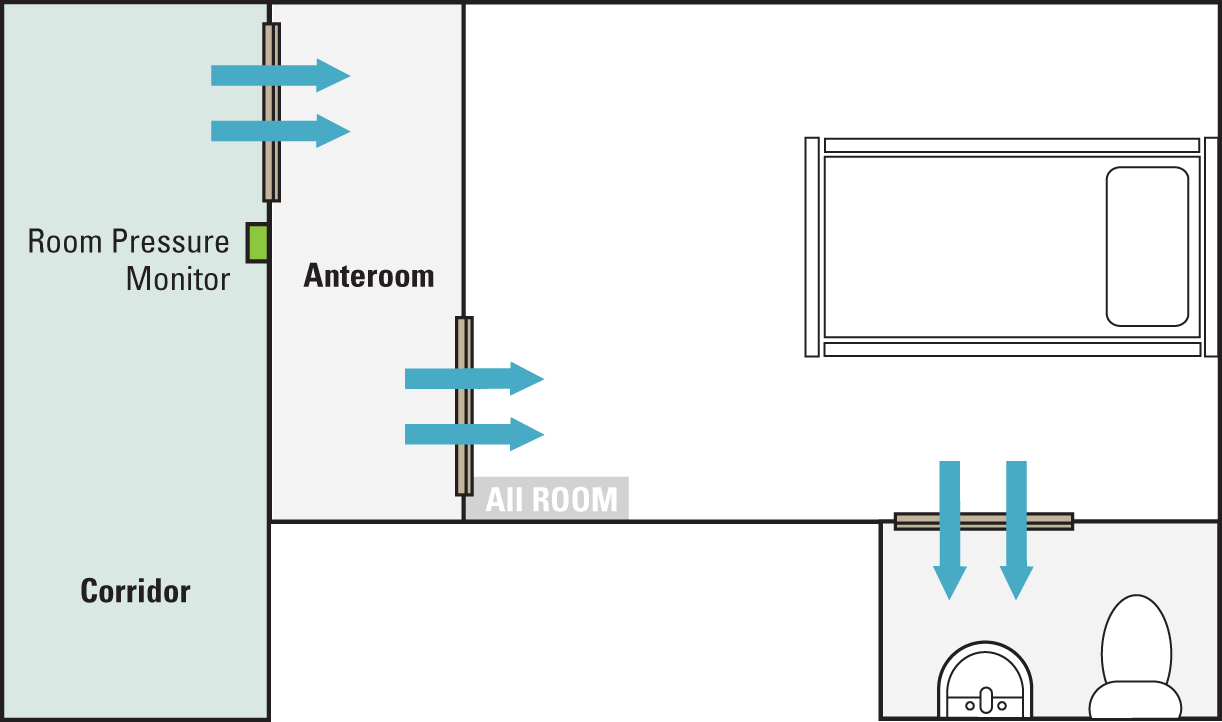 AIIRs are negatively pressurized relative to adjacent spaces
Exhaust Airflow
Air leaving an AIIR must be safely exhausted to the outdoors, with no risk of contaminating the rest of the hospital's HVAC system. All exhaust ductwork from the AIIR must be negatively pressurized and must discharge directly to the outdoors without mixing with other non-AIIR exhaust systems. Alternatively, exhaust air may be passed through a HEPA filter, then combined with the general exhaust system or recirculated back into the AIIR for additional air changes.

For more information on AIIRs, please visit our website, view our previous blog post on pandemic-ready patient rooms or contact our team at criticalenvironments@priceindustries.com.