Understanding the ASHRAE 170 Requirements for Protective Environment Rooms
A protective environment room, or PE room, is a type of isolation room that is intended to protect an immunocompromised patient from airborne contamination. PE rooms are designed according to the requirements of ASHRAE Standard 170: Ventilation of Health Care Facilities.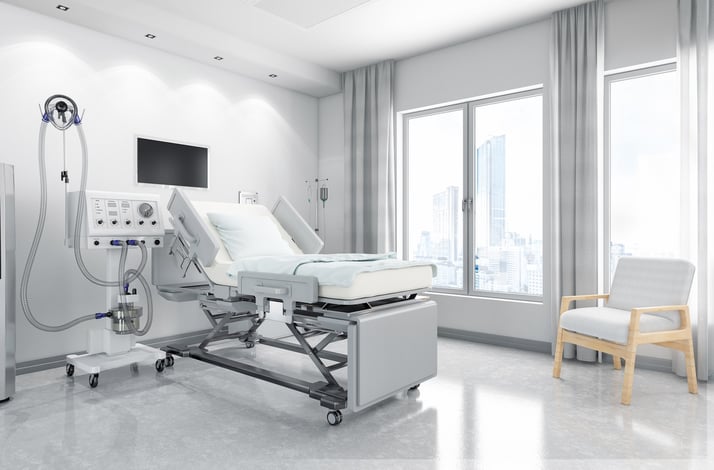 Protective environment rooms help protect immunocompromised patients from airborne contamination
Ventilation
The ventilation system in a PE room should be designed such that clean air is introduced in the immediate area around the patient bed (to wash the patient with a steady stream of ultraclean airflow) and moved to exhaust/return grilles in less clean areas near sources of outside contamination, such as the entrance door.

Supply air must be introduced to the space using Group E non-aspirating diffusers, more commonly known as laminar flow diffusers. Airflow velocity at the patient bed should be limited to prevent drafts and patient discomfort. These laminar flow diffusers must also be equipped with an integrated HEPA filter (minimum), except in instances where the air handling unit serves multiple PE rooms and where more than 75% of the air handling unit's airflow is serving PE rooms, in which cases an upstream HEPA filter bank that is downstream of all heating and cooling equipment may be used.

At a minimum, PE rooms must have 12 air changes per hour, two of which must be with outdoor air. Recirculated HEPA-filtered airflow is permitted to increase the equivalent room air change rate; however, the minimum outdoor air changes are still required.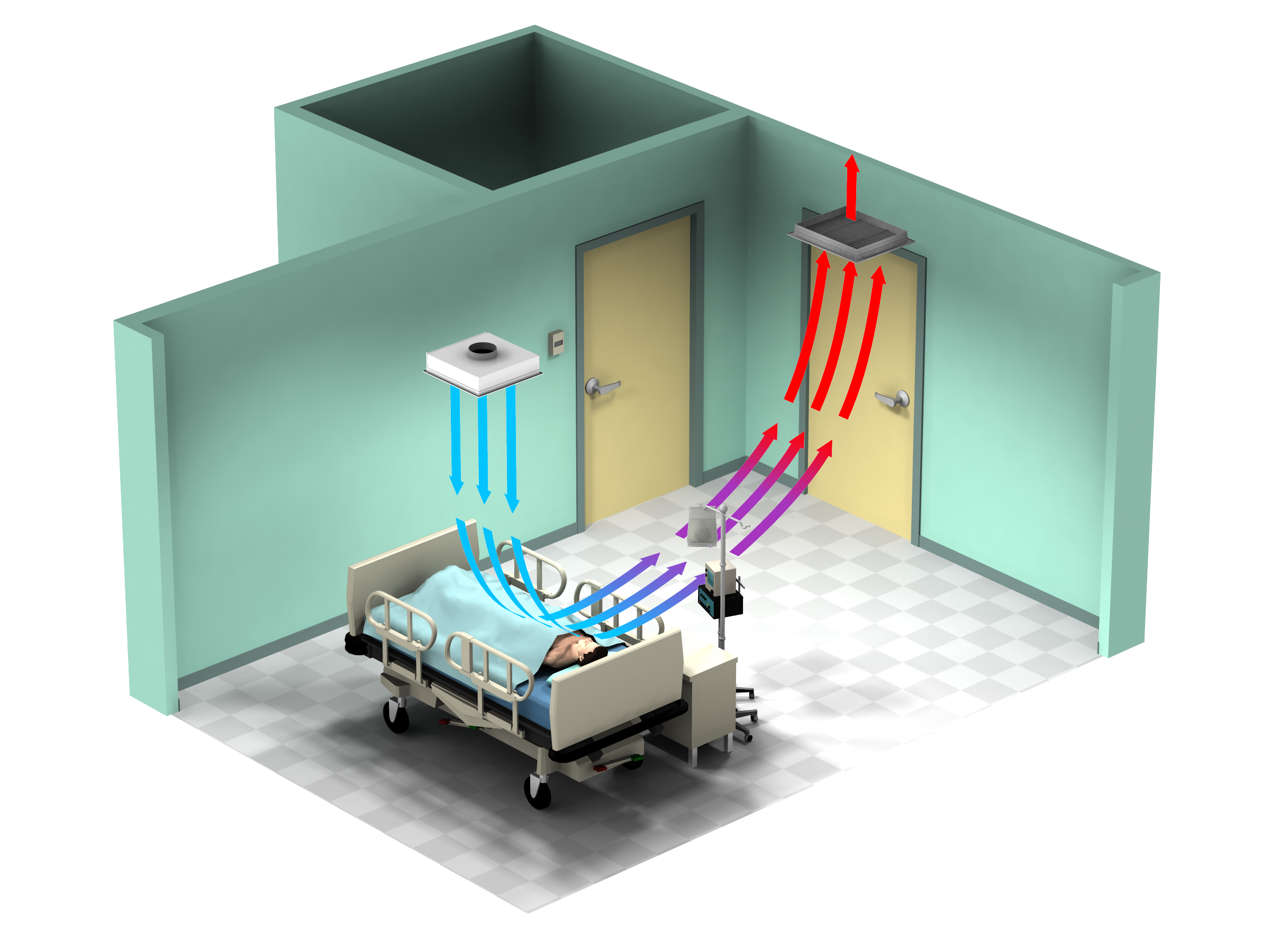 PE room airflow is supplied directly above the patient and exhausted near the entrance door
Room Pressure Differential
The room must always maintain a positive differential pressure of at least 0.01 in. w.g. (2.5 Pa) relative to adjacent spaces. Positive pressure inside a PE room ensures that all room leakage is forced out of the space, preventing the infiltration of contaminants from outside the room. PE rooms also require a permanently installed pressure monitoring device with a visual alarm that indicates when room pressure is outside the required operating range. An example of a suitable pressure monitor is the Antec Controls Touchscreen Room Pressure Monitor (PMT).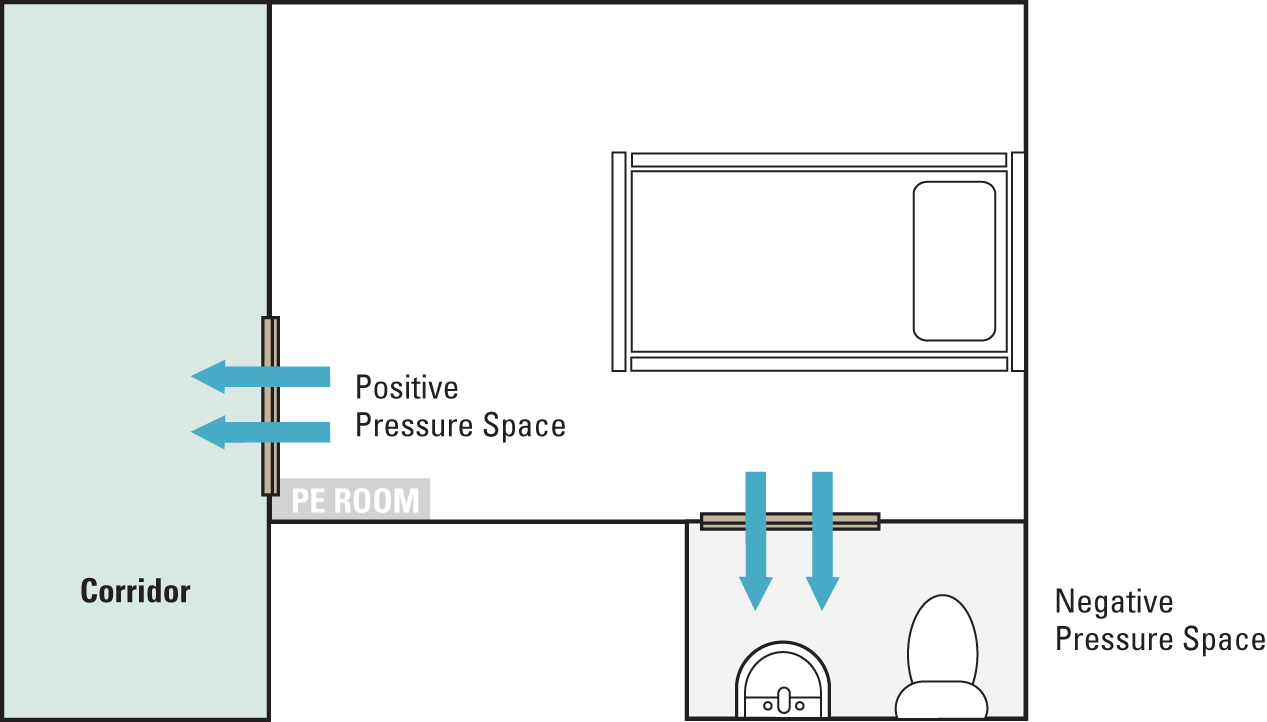 PE rooms are positively pressurized relative to adjacent spaces
Exhaust Airflow
Unlike airborne infectious isolation rooms, PE rooms do not have any special exhaust requirements.
Alternative Uses
PE rooms may be used as standard patient rooms when necessary; however, the room pressure relationship must remain unchanged.

For more information on protective environment rooms, please contact us at criticalenvironments@priceindustries.com.