Predict Partners with Purdue University to Create a Validated CFD Model for Particle Tracking
Over the last two years, the world has come together to tackle all sorts of challenges related to the COVID-19 pandemic. We at Price wanted to help in the best way we could: by using the knowledge and expertise of our teams coupled with our state-of-the-art research center to design innovative solutions for improving indoor air quality. It is our goal to become thought leaders in indoor particle movement and air purification.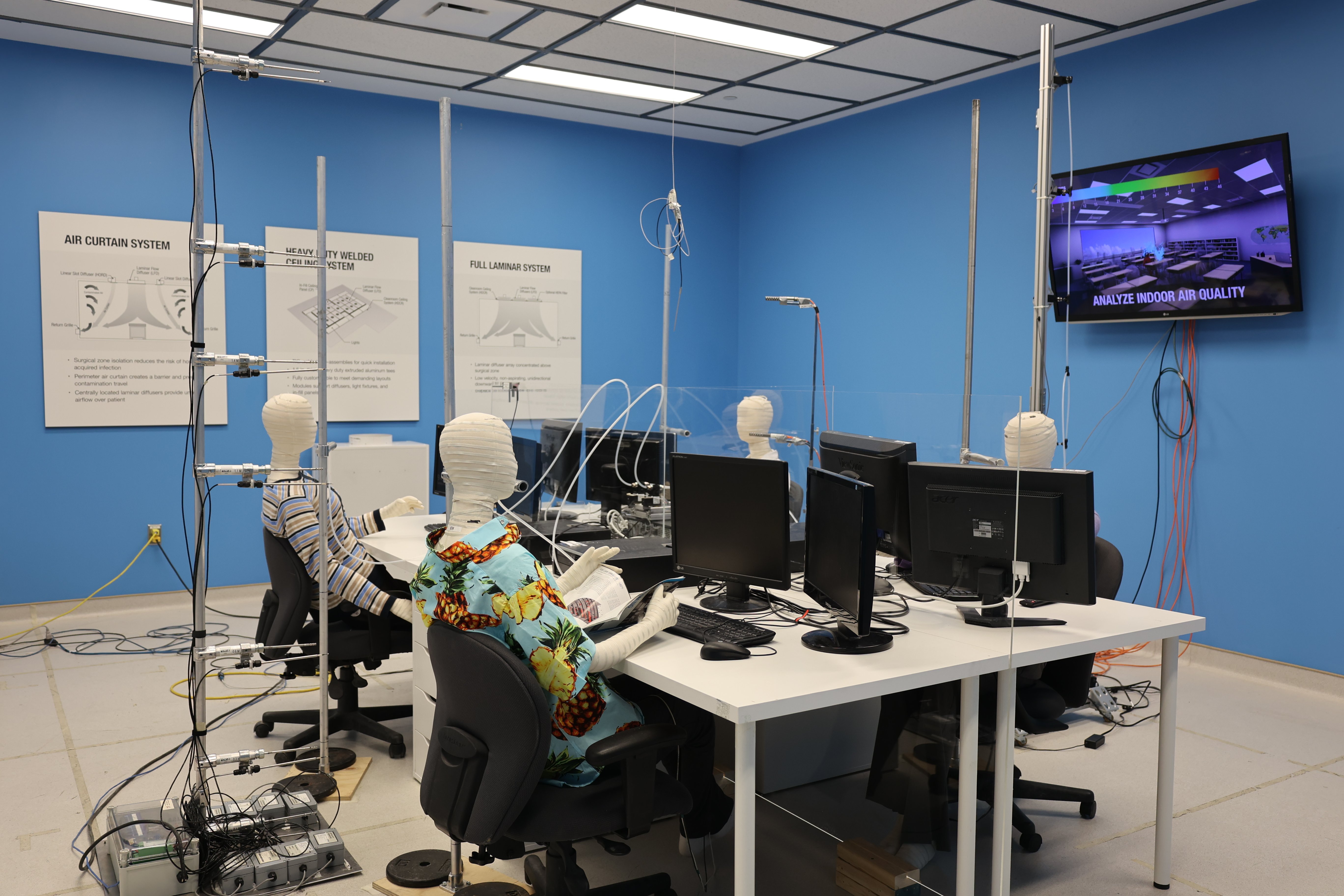 Particle testing setup at Price Research Center North
Right from the beginning of the pandemic, we realized that our Predict team would play a key role in helping us understand how airborne diseases such as COVID-19 spread in indoor spaces. The Predict team set out to develop a validated computational fluid dynamics (CFD) model that could be replicated and used to track how airborne particulate matter spreads in indoor applications with either a mixing or displacement ventilation system.

In order to validate its model, the Predict team sought to partner with a credible third-party research team. Wanting to work with the best in the industry, the team reached out to Dr. Qingyan (Yan) Chen, Professor Emeritus of Mechanical Engineering at Purdue University and Editor-in-Chief of the scientific journal Building Environment.

Dr. Chen is known around the world for his research and contributions to building modeling. In 2011, the Scandinavian Federation of Heating, Ventilating and Sanitary Engineering Associations in Denmark, Finland, Iceland, Norway and Sweden (SCANVAC) awarded him the Rydberg Gold Medal for his exceptional contribution to the advancement of modeling and measurement of ventilation and room air distribution. In 2013, Dr. Chen also earned the Award for Distinguished Service to Building Simulation from the International Building Performance Simulation Association.

The goal of the Predict-Purdue partnership was twofold. The first goal was to create a CFD model that would match the scientific testing being done by the research team at Price Research Center North (PRCN) on particle movement in mixing and displacement applications. The second was to learn as much as possible from Dr. Chen and his team about best practices and techniques for simulating particle movement in indoor environments.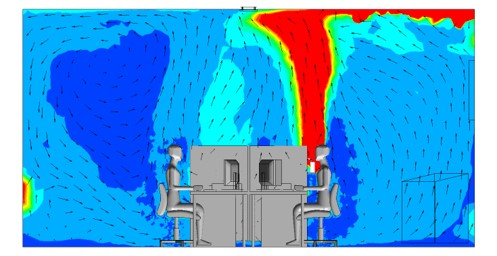 Particle concentration with a mixing system operating at four air changes per hour
Both the CFD model and testing done at PRCN were designed to evaluate how particles from a breathing occupant spread in an open office environment. The Airborne Pathogens Test Chamber at PRCN was built and staged with cubicle desks, four life-size, heated mannequins, a particle generator and measuring instruments such as particle counters to conduct the lab testing under both mixing and displacement conditions.

The testing was able to track the spread of saltwater droplets from 0.3 to 10 microns in size. The Predict-Purdue team then used a fluid simulation software to build and run a CFD model of the test chamber under identical conditions to ensure that the model results matched the test data. After months of collaboration, the team successfully completed its validation and is now co-authoring a research paper outlining the findings.

Particle Concentration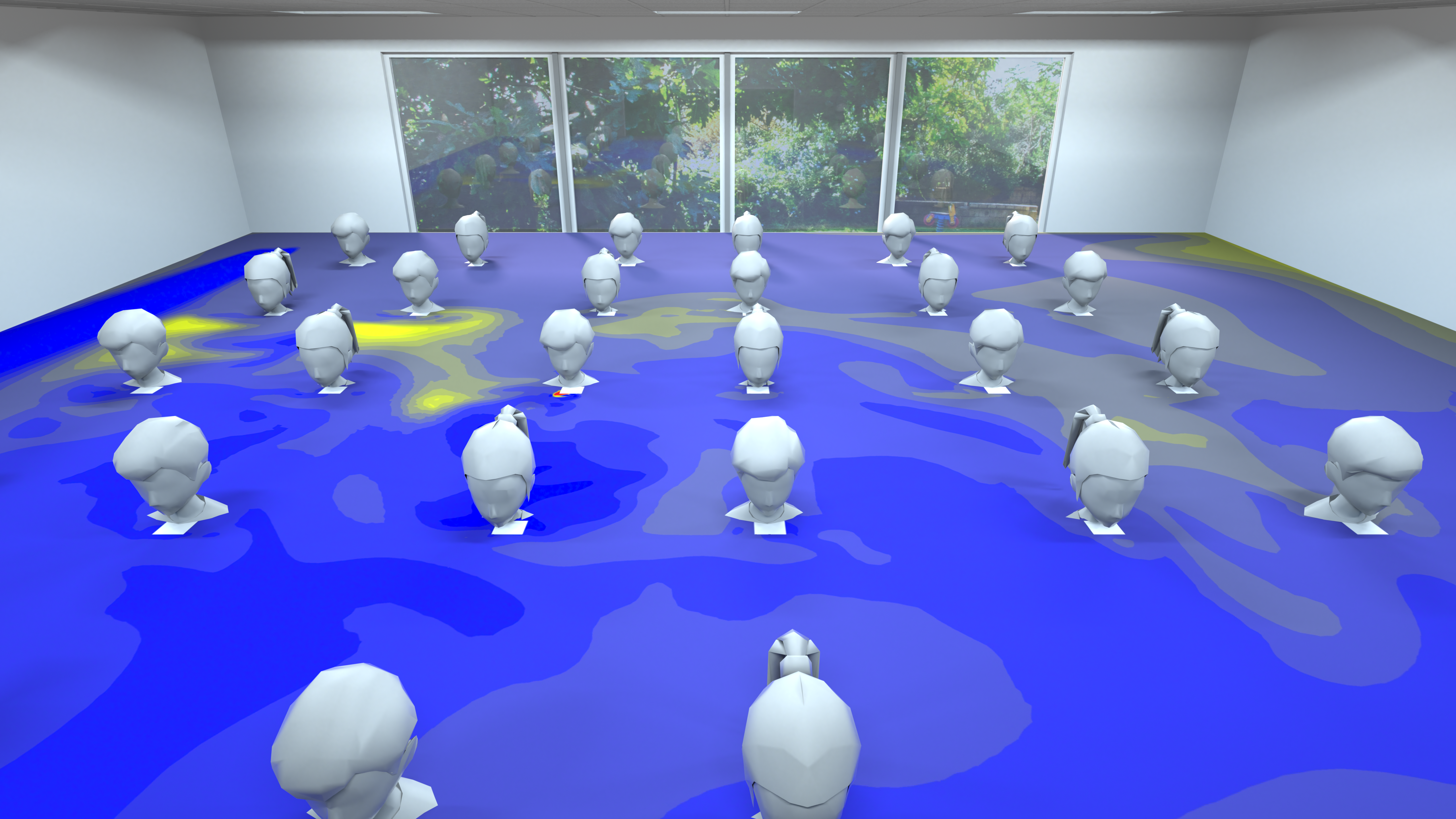 The results of a particle simulation showing the impact of having a Price Room Air Purifier installed in a classroom for just 30 minutes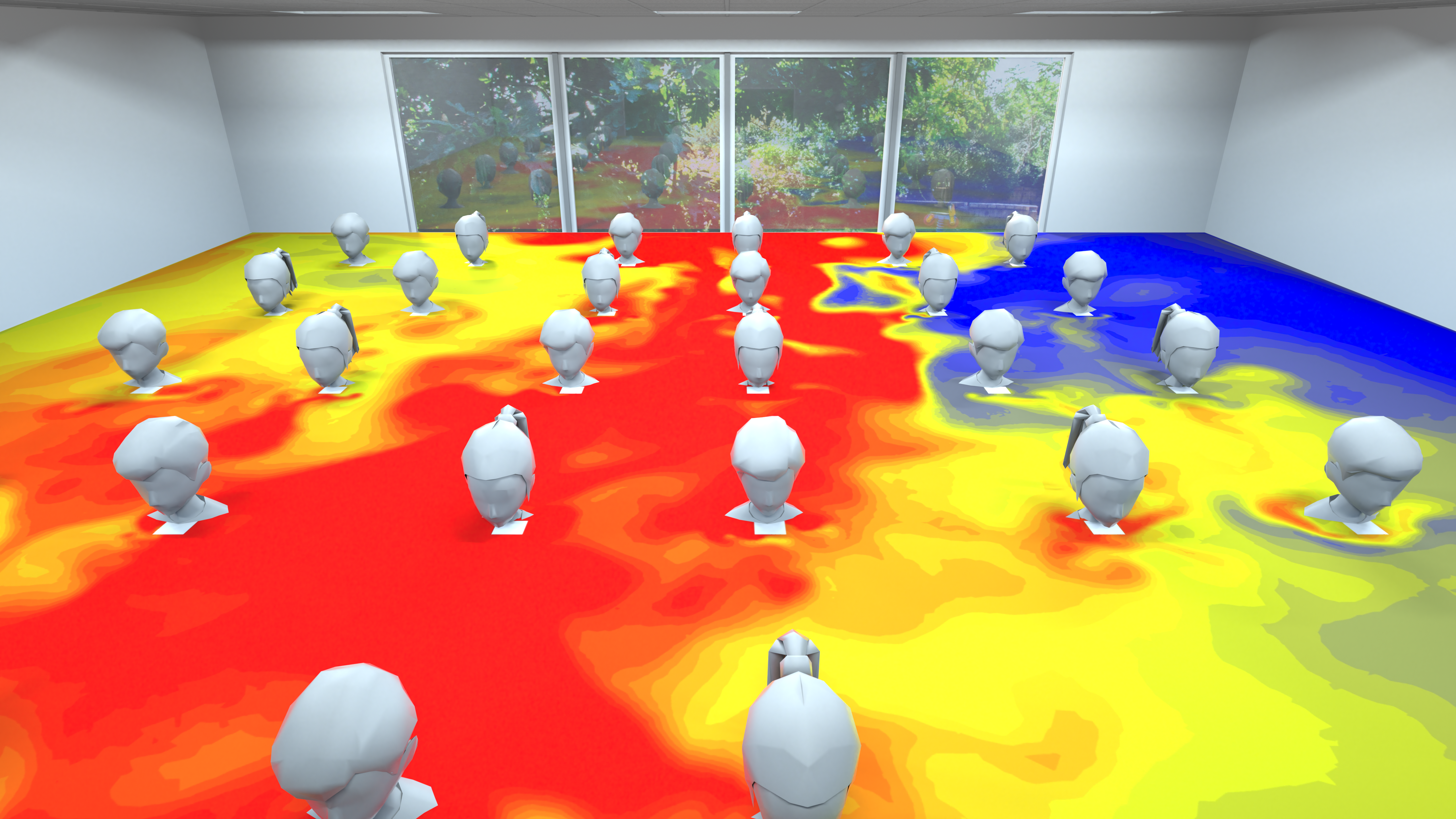 The results of a particle simulation showing a classroom without a Room Air Purifier
With a third-party-validated model, the Predict team is pleased to offer particle tracking as part of its many services. Particle tracking can be used to track not only the spread of diseases such as COVID-19 but also the spread of contaminants such as allergens, dust and harmful chemicals. Working with our customers, we've already seen a shift in public demand for products that provide clean, fresh air to occupants. Having the Predict team use an experimentally validated CFD model with particle tracking to design indoor environments provides owners and occupants with peace of mind that the HVAC systems have been optimized to provide the cleanest, safest air possible.

To learn more about Predict's services and how a CFD analysis can help you with your next project, contact the Predict team at info@predictCFD.com or visit www.predictCFD.com.