It's Time to Go Inside for Some Well-Deserved Fresh Air
In today's world, indoor air quality is an increasing concern and the ability to provide clean air to room occupants is more important than ever. Most commercial spaces focus primarily on cost and thermal comfort while air quality is based on minimum requirements, which can result in lower than optimal air quality.
The Overhead Air Purifier (OAP) is an ideal option for improving indoor air quality wherever and whenever you need it, particularly in high density areas like office spaces, classrooms, fitness centers, retail, and restaurants. It is designed to continuously cycle air through an air filter, eliminating unwanted dust, germs, contaminants, and pathogens.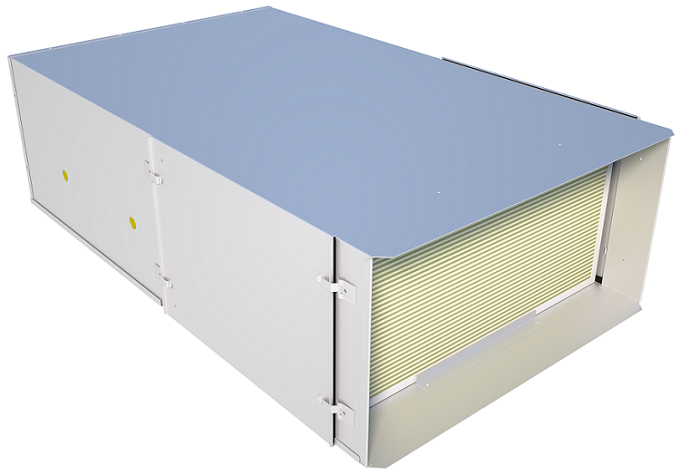 The OAP moves Price's Room Air Purifier (RAP) concept up to the ceiling for improved air quality and safety with no floor-level obstructions or impact to the architectural design of a space. The low-profile casing and superior acoustic properties make the OAP an ideal long-term solution for controlling airborne contaminants and viruses.
The OAP is designed for installation above conventional ceiling tiles, or alternatively, seamlessly integrated into "open concept" spaces with exposed ductwork. By connecting supply and return ductwork and diffusers to the OAP, the indoor air is continually cleaned and sterilized though the use of high-efficiency filtration, UV sterilization, and bipolar ionization. The ceiling mounted design of the OAP maximizes contaminant capture efficiency by capitalizing on natural stratification in the space which elevates contaminants up and out of the breathing zone. Clean, sterilized air is then reintroduced to the space through a supply diffuser. Since space configurations and occupant locations vary significantly from one space to the next, the OAP is compatible with many different diffusers to ensure the air delivery ideally suits the space and particular application.
Features of the Overhead Air Purifier are:
100-800 cfm
Easily removable and replaceable filter
Quiet operation
Energy efficient smart EC motor
Adjustable fan speed
115, 208, 240, 277 V
UV light treatment (Optional)
Bipolar ionization (Optional)
Filters
The OAP is provided with a MERV 13, or a MERV 8 pre filter and HEPA filter. The HEPA filter has a minimum efficiency of 99.99% at 0.3 micron particle size.
UV Light
The UV light provides 360-degrees of high UVC intensity light and is integrated into the interior of the OAP unit. It is ideal for disinfecting air streams in HVACR equipment. Widely used in hospitals and institutional applications, Ultraviolet Germicidal Irradiation (UV-C) also lowers the cost of maintaining and operating HVAC equipment.
Bipolar Ionization
The bipolar ionizer proactively purifies indoor air by producing positive and negative oxygen ions to neutralize harmful pollutants and odors. Testing has proven the effectiveness of bipolar ionization technology in the reduction of MS2 Bacteriophage, a surrogate for SARSCoV-2 (COVID-19), in indoor environments.
For more information about the Overhead Air Purifier, please contact airmovement@priceindustries.com.